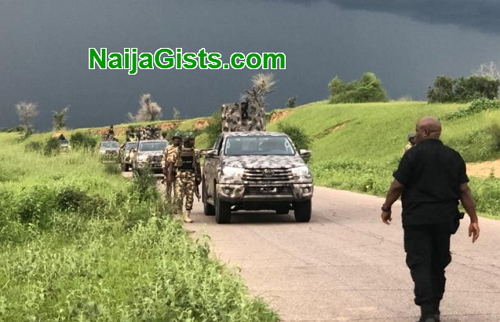 Nigerian Soldiers Chase Rampaging Boko Haram Terrorists Off Maiduguri Damaturu Highway
Nigerian soldiers and mobile policemen have cleared out remnants of Boko Haram terrorising motorists on the Maiduguri-Damaturu highway.

According to Punch NG, 6 soldiers were said to have been lost in the battle, with the insurgents recording a larger number of casualties.

Security sources said the insurgents were engaged between Mainok and Benesheikh on the Maiduguri-Damaturu highway between 11am and 1pm on Tuesday.

The sources said the soldiers had engaged the insurgents in a shootout between 11am and 11.35am.
One of the sources said,
"Two gun trucks were recovered, but six soldiers were lost in the gun duel, two corpses of Boko Haram were seen after the crossfire ceased but many corpses were taken away by the insurgents. Boko Haram equally suffered a high degree of injuries, many of them were seen leaping off in flight."