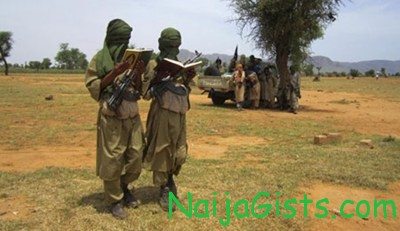 Oct 27, 2012 – Boko Haram Training Camp Traced To Mali, Operational Base Identified
The search for a lasting solution to the perennial campaign of violence by the Islamist sect, Boko Haram, has taken President Goodluck Jonathan and his National Security Adviser (NSA), Col Sambo Dasuki (retd) to Bamako, the capital of Mali, for a secret meeting with the civilian and military authorities in the troubled West African country, following a strong intelligence report which shows that Mali's northern region is being used as the operational base of the dreaded sect.
The presidency had, in a statement by presidential spokesman, Reuben Abati, announced on Wednesday, October 17 a two-day working visit by President Jonathan to Niger Republic and Mali.
While the president was scheduled to attend a meeting of the High Authority of the Nigeria-Niger Joint Commission, in Niamey, with President Issoufou Mohammadou of Niger Republic to revitalise and reposition the 41-year-old commission, as a primary platform towards addressing emerging cross-border challenges, the statement added that on his way back on Friday, October 19, he would make a stopover in Bamako, the Malian capital, for further consultations on efforts by ECOWAS and the UN Security Council, to restore normalcy to that country.
Saturday Sun, however, gathered from diplomatic and presidency sources that the meeting in Niamey was a mere decoy for President Jonathan to "seek collaboration and cooperation of both the military and civilian authorities in Mali on how best the operational base of Nigeria's Boko Haram in the north of Mali, which is under the firm control of Islamist groups and Tuareg rebels, who took control of the region following a coup in March." A reliable diplomatic source revealed that rather than making just a stopover in Bamako, as announced by Abati in his statement,
"the Nigerian president actually left Niamey, Niger Republic on Thursday, October 18 and went straight for the main goal of his trip, which is to hold talks with the Malian authorities, as part of efforts to dismantle the main structure of Boko Haram in the North of the country (Mali)." It was gathered that a recent intelligence support for Nigeria had confirmed that Boko Haram militants were being trained and armed in northern Mali, where the leader of the sect, Sheik Mohammed Shekau, is also believed to be hiding and coordinating attacks on Nigerian targets.
Based on this, the diplomatic source revealed that Nigeria became more interested in the politics and political stability of Mali. The military junta in Mali, headed by Captain Amadou Sanogo, had seized power on March 22, accusing the democratic government of President Amadou Toumani Toure of failing to deal effectively with a Tuareg rebellion that had started in January. Islamist groups then took advantage of the chaos and seized all the region's major towns, including the historic city of Timbuktu.
Former parliament speaker, Diouncounda Traore later emerged as interim president, following international pressures on the military junta to relinquish power. It was further gathered that President Jonathan's last week visit was to consolidate on recent visits and discussions by the NSA and some top officials of the defence and foreign affairs ministries to Mali.
Part of the discussions, at the meeting, between President Jonathan and Mali's interim president Traore, was "to stabilise the civilian regime of Traore, mobilise African and ECOWAS forces to Mali, with a view to flushing out all islamist groups and rebels, including Boko Haram leaders that had taken control of North of Mali." In a separate discussion with Captain Sanogo, President Jonathan was said to have offered him a political asylum in Nigeria to pave the way for Traore's full control of Mali's armed forces, which are still loyal to Sanogo. "If the Nigerian government can get Traore relocated to Nigeria, the stability Nigeria needs in Mali to fight its own enemy hiding and operating from our territory would have been achieved half-way," a diplomatic source privy to the development told Saturday Sun. It was, however, not yet clear at press time whether Traore has accepted the offer of asylum from President Jonathan.
"What is certain is the success of the war against Boko Haram depends largely on the stability in Mali and the ability of the African and the entire international community to dislodge all rebels and Islamist groups operating in northern Mali because if you observe closely, they share the same religious ideology and modus operandi with Boko Haram militants.
If you follow developments there, you will notice that the Islamists have imposed a harsh interpretation of Sharia in the areas they control in the north of Mali and there are reports of people being stoned to death and having their limbs amputated," the source added. (DailySun)