Sokoto State News
Confusion As Demonic Possessed Student Halts Lecture At UDUS, Usmanu Danfodiyo University In Sokoto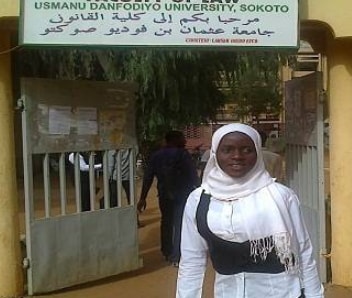 A peaceful Mathematics lecture at the Usmanu Danfodiyo University, Sokoto (UDUS) ended in confusion, following a strange display by a 200-Level female student.

The girl, said to have been possessed, lost her consciousness and put up strange displays. She was also said to have spoken incomprehensibly.

Immediately she started her display, she was surrounded by her colleagues, who rushed her out of PTF Lecture Hall where they were having MAT 207 class.

Rather than taking her to the school clinic, she was laid in front of the lecture hall where a student recited Arabic verses to heal her. After some minutes, the victim regained her consciousness.

There was uproar among the people who gathered at the scene, with some suggesting that she was possessed by a spirit.

It is a common belief among students that there are genies around the school making students to behave strangely and exhibit epileptic display.

According to some students, the victims may have exposed themselves to be possessed unknowingly.

Aishat Umar, who claimed to have been a victim, said her parents struggled to find solution when she was possessed by the genie.
She said:
"I had no idea what was going on whenever I was possessed by the genie. I usually lost consciousness but I noticed how it happened to some of my colleagues. My parents tried a lot when I was seeking remedy through several medical approaches. However, medical tests indicated there was nothing wrong with me. Some of the doctors admitted that the problem was caused by spiritual possession."
She said she was not able to participate in public events until she was healed of the problem.
"I used to stay away from public gatherings to avoid embarrassment. Sometimes, it happened during classes and because of that, lecturers would end the classes. I found it difficult to continue with school due to shame. I remember it happened to me during my matriculation. It took time before I was healed."
Another student, who simply identified herself as Kauthar, explained some other ways in which the spirit could possess students.
"Genies are invisible creatures that can possess anyone when exposed to things that attract them. They can cause people to act irrationally when one mistakenly pours hot water on them," she said.