Political News
Bishop Matthew Kukah: Why I Rejected Atiku Private Jet Ride Offer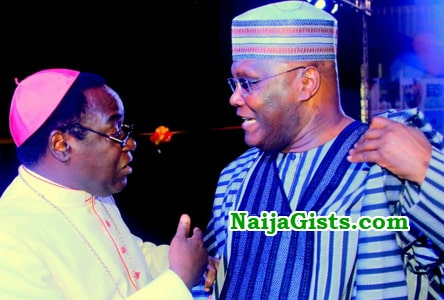 Rev. Dr. Matthew Kukah, the Bishop of the Catholic Diocese of Sokoto says the meeting with Former President Olusegun Obasanjo and former Vice President, Atiku Abubakar, was to witness the reconciliation of a prolonged dispute between the two leaders.

Kukah said this in an interview with the NAN in Sokoto today in reaction to concerns from some members of the public that his meeting with both leaders was for political reasons.

The catholic bishop said that it was strictly to support and witness their reconciliation, which he has been trying to broker for some years.

Kukah said that he has for several years made efforts to reconcile both leaders without success until recently when they both agreed to meet and make peace.

He said that on Thursday Oct. 11, they had agreed to meet in former president Obasanjo's home in Abeokuta along with some religious leaders, Sheikh Ahmed Gumi and Bishop David Oyedepo.
Kukah said that on getting to the home of the former president, he saw that more and more people were trooping to the home and the meeting was gradually starting to have a political undertone.
He said that to ensure he does not get involved with anything relating to politics, he quickly advised Former President Obasanjo to carry out the reconciliation behind closed-doors not in public.
According to Kukah, I proposed to the former president that he should sit down with Alhaji Abubakar behind closed doors, sort out their issues after which I and Sheikh Gumi will join them as Bishop Oyedepo was yet to arrive at the time.
"After their closed door meeting, I advised that the religious leaders, myself inclusive join them so we can listen to them, serve as witnesses to the reconciliation, advice them and pray for them.
"Former President Obasanjo agreed to follow my advice and this was how we carried out the reconciliation.
"After the closed door meeting between the two leaders, I and Sheikh Gumi went and sat down with them. My advice to them was that it is imperative for them to maintain the peace.
"I told them that I am a Catholic priest and bishop and the Catholic church preaches against divorce or separation, so there should be no room for that again.
"After our discussion, which was done behind closed doors we prayed and we took photographs and I left afterwards to attend to other spiritual duties.
"I was earlier offered a sit in their aircraft and although it was the most convenient offer at the time I declined the offer because I saw it as necessary to ensure that I take no favours from any of the two parties.
"I was not in Abeokuta to endorse Alhaji Atiku Abubakar, the candidate of the People's Democratic Party (PDP).
"I fully understand the feeling of some persons, who believe I traveled with Alhaji Abubakar, to witness his endorsement by Former President Obasanjo but this was not the case at all.
"I am a strong believer in a peaceful and united Nigeria and this ideals I strive to achieve as a priest. My instincts to always initiate reconciliation and peace were sharpened during my involvement and experience with the Oputa Panel.
Kukah said that it was imperative for him to react to the event of Oct. 11, not only to allay the concerns of the public, who may have seen the event in a different light but to set the records straight.
He said many minds would remain set on the matter even after I have clarified and explained the actual reason for the meeting and this is to be expected, one cannot please everyone.