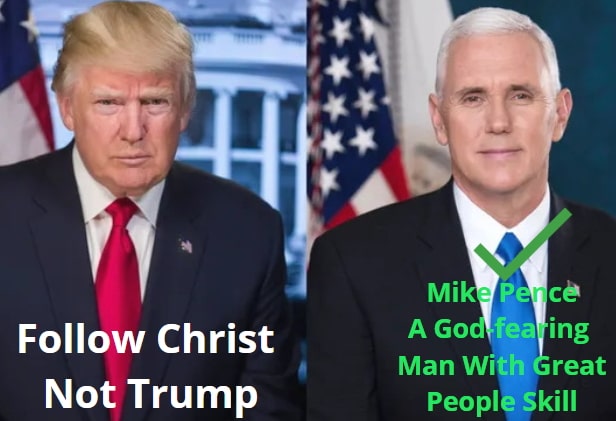 Stop Worshiping Donald Trump, Pray For The Will Of God
Follow Jesus Christ Not Donald Trump – A Wakeup Call For Joseph Okechukwu And Followers
This is a direct message to popular conspiracy theorist Joseph Okechukwu, a former Nollywood actor who relocated to the United States several year ago.
This talented actor has been building followers for Donald J Trump for several years now and am beginning to dislike his style of spreading message of fear and hopelessness amidst the current COVID-19 pandemic.
What turned me off about this smart actor is that he is telling Africans and Nigerians to follow Trump.
Before saying 2 or 3 statement, this guy will tell his followers to follow Trump. So where is Christ in all of these?.
He is beginning to sound like an anti Christ to me for encouraging Christians to follow Donald Trump instead of praying for the will of God.
Remember what the bible says about the Anti-Christ.
Please open your bible to Mathew 24 vs 24
"For there shall arise false Christs, and false prophets, and shall shew great signs and wonders; insomuch that, if it were possible, they shall deceive the very elect."
Guys please don't be deceived, pray for the ultimate will of God to be done in this pandemic.
Don't be a follower of Donald Trump, instead I encourage everyone to follow Christ and the leading of the Holy Spirit.
Don't follow Trump, please Follow Christ and pray to God for guidance.
For those in the United States, allow God to help you decide don't allow the evangelicals to decide for you.
Allow Christ to decide who will be your next President if you want peace to reign in your land.
There are better people with great quality than Donald Trump, this guy is a bad market for una.
His Vice, Mike Pence ( a very calm and polite evangelical) will do a better job than him and that is the fact of the matter.
Donald Trump, a man with no good people skill, a politician who believes he is right at all time, is the worst type of leader to have in times of crisis.
Allow God to choose your next President and not the blind evangelicals backing Donald Trump.
To all Christians, don't be easily deceived, I understand that some of you see Trump as a form of Messiah because of what people like Joe Okechukwu is spreading to you, please do your own homework and test all spirits.
Compare everything your hear with what the bible is saying. Stop allowing people to interpret the Bible upside down for you.
Don't be a follower of man but a follower of Christ. Allow the Holy Spirit to lead you and stop idolizing the man Donald Trump.
Be updated in the news and don't allow others to bring falsified news to you. Be on top of world's situation and be informed.
Don't accept everything conspiracy theorists are telling you. Pick facts from their report and trash the rest.
God will give you wisdom and a good discerning spirit.