Funke Akindele
Funke Akindele Loses Pregnancy, Debunks Miscarriage News
Nov 10, 2012 – Funke Akindele Loses Pregnancy, Debunks Miscarriage News
Nigerian actress Funke Akindele has spoken up on her alleged 4months pregnancy miscarriage news as posted on a popular magazine few days ago. naijagists.com
According to sources close to the actress, Funke Akindele has chosen to make her pregnancy update private in accordance to Yoruba tradition.
The source said according to Yoruba culture, it is considered a taboo for a married woman to disclose her pregnancy update publicly.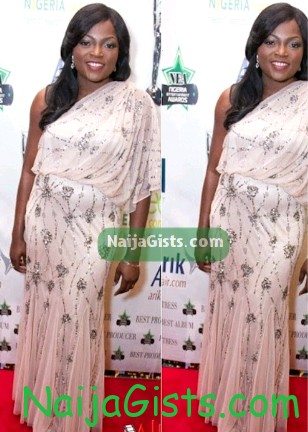 Funke Akindele who was spotted with a huge pregnancy belly at the Nigerian Entertainment Award in New York few weeks ago was spotted few days ago with a flat belly which aroused the miscarriage rumour.
An anonymous source confirms that Funke Akindele indeed miscarried her 4 months pregnancy.
Another actress that miscarried in the past few weeks is Ini Edo.
Funke Akindele must be going through some very tough times right now, she truly deserves her privacy.
Remember her in your prayers.
We wish her well.