Crime News
Photos & Video: Large Python Snake Swallows Woman Alive In Indonesia..Body Of Missing Woman Found In Python Belly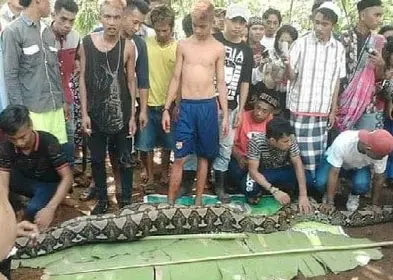 Large Python Snake Kills, Swallows Woman In Indonesia..Body Of Missing Indonesian Woman Found In Python Belly
The lifeless body of a missing Indonesian woman has been found in the belly of a 23 foot long python that swallowed her in Indonesia.
The victim, Tiba Wa, 54 was declared missing after she went into her farm in Muna Island on Thursday night.
On Friday morning, her loved ones went searching for her but couldn't locate her.
However, her belongings were recovered. The entire village soon launched a search for the missing woman only to find a motionless snake with bloated belly fifty meters from where her flash light and sandals were spotted.
They killed the snake and sliced open its belly only to find the body of Wa Tiba with her clothes still intact.
The garden of the deceased which is about 805 meters from her house is located in an area believed to house Anacondas and deadly pythons.