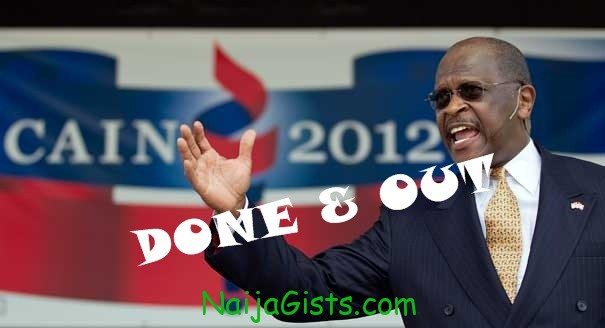 Dec 3, 2011 – Herman Cain Drops Out of US Presidential Race
US Presidential hopeful, Herman Cain has dropped out of US Presidential race over continuous allegations of sexual harassments and inappropriate sexual relationships.
In the past 1 month and a week, Herman Cain has been enmeshed in different sexual scandals, and the latest revelations by his supposed mistress, Ginger White, seems to be the last straw that broke the camel's back. Ginger revealed that she had been his mistress for 13 years in an extra marital affair that ended eight months ago, and that he paid her money for month-to-month bills. naijagists.com
Herman Cain eventually acknowledged knowing and supporting Ms. White, but denied having any sexual relationship with her. The big shock about the whole affair was the impact it had on his wife, Gloria who just discovered her husband has been supporting a woman for almost 13 years without her knowing about it.
Speaking to his supporters in Atlanta on Saturday, Cain, flanked by his wife said:
"Becoming president was Plan A. And before you get discouraged, today I want to describe Plan B. So as of today, with a lot of prayer and soul searching, I am suspending my presidential campaign.
I am disappointed that it came to this point that we had to make this decision.
Herman Cain said that the media spin had been too painful and distracting for him to continue. These false and unproved allegations continue to create a cloud of doubt over me and this campaign and my family.
That spin hurts. It hurts my wife, it hurts my family, it hurts me and it hurts the American people because you're being denied solutions to our problems."
How can a married man be funding a single woman for 13 years without his wife's knowledge and claim nothing is happening? Say that to the marines Mr. Cain.  Watch the video below