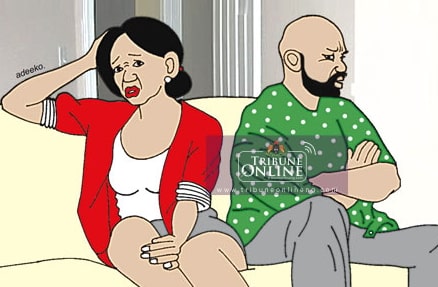 "My Husband Is A Thief & Womanizer"- Frustrated Housewife Tells Court
A Badagry Magistrate Court in Lagos State, on Thursday granted a petition filed a housewife, Yinka Adewole, for the dissolution of her 25-year-old marriage on the grounds that her husband, Temitope had a habit of stealing.

The President of the Court, Mr Sakirudeen Adekola, in granting the request made by Yinka, said: "all efforts to reconcile the parties had failed".

Adekola advised Yinka and Temitope to face their future in peace.

"Anyone who is not satisfied with the judgment can appeal within 80 days.

"Violation of any of these orders made above by the court amounts to contempt and shall be so treated with the appropriate sanctions," he said.

Earlier, the petitioner, Yinka, 51, a civil servant had pleaded with the court to dissolve her marriage, alleging that Temitope, her husband was a thief and a womanizer.

The petitioner, who live at No 30 FMPWH yard, Seme Road, Badagry told the court that she could no longer tolerate him, adding that there was no more love in the marriage.

"My husband is a thief, he steals from me and doesn't perform his responsibility as a husband.

"At least if i don't have a child of my own, i should have rest of mind, enough is enough," she said.

However, Temitope denied stealing from his wife.

He, however, said that he did not want to divorce Yinka because they promised to live together till death do them path.