Kenyan Referee Caught On Video Receiving $600 Bribe In Hotel Kicked Out Of 2018 FIFA World Cup..Photos
Meet Aden Marwa, the only Kenyan FIFA referee recently caught on camera collecting $600 bribe in a hotel.
Marwa who was luck to be one of the 4 referees selected from Africa to officiate the upcoming World's biggest football event has lost his chance.
The 41-year-old Secondary School teacher was set up by an investigative journalist who put him on Camera and negotiated a deal with him.
Unfortunately, he fell cheap and lost his place in destiny.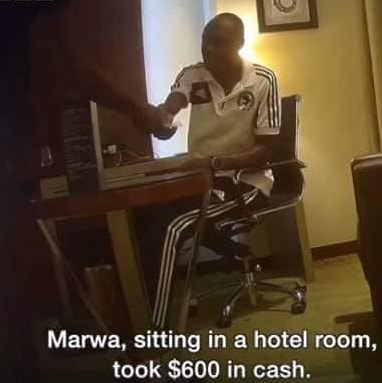 The BBC Africa reporter who caught Marwa, Ghanaian Anas Anas  said the corrupt referee has been forced to resign from the upcoming world cup event.
It is against FIFA code of conduct for any official to accept bribe.
Watch the video below
https://www.youtube.com/watch?v=p-_BJ2ajT44