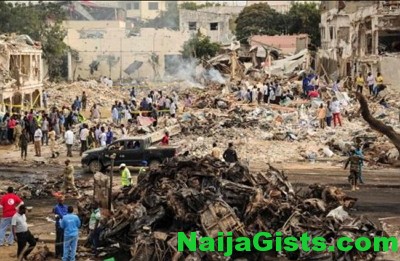 October 16, 2017 – Death Toll Of Bomb Explosions In Mogadishu Somalia Climbs To 300
Mogadishu Somalia Suicide Bombings Death Toll Rises To 300 As Many Go Missing
Police today confirmed that 300 people died after multiple bomb explosions in Mogadishu, the capital of Somalia.
Local residents were seen packed in hospitals in search of relatives and friends caught up in what authorities described as Somalia's deadliest suicide bombing.
Authorities told Reuters today the death toll has risen since Saturday when suspected terrorists struck at two busy junctions in the heart of the Mogadishu.
Here is what the city's director of ambulance service, Mr Abdirahman Abdikadir told Reuters this morning:
"We have confirmed 300 people died in the blast. The death toll will still be higher because some people are still missing."
No terror sect had claimed responsibility for the deadly attack.