Hot Gists
Nigerian Instagram Boobs Queen Obianuju Talks About Ordeal Of Women With Big Breasts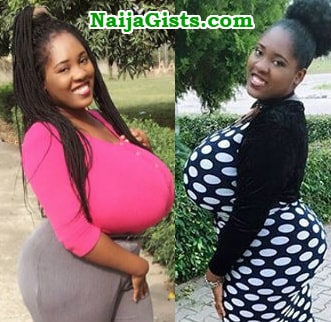 Nigerian Instagram Boobs Queen Obianuju Talks About Ordeal Of Girls With Big Breast
Meet Obianuju, an IT expert who became an Instagram sensation on account of her sprawling mammary.
The decent lady who never wears cleavage-bearing dresses or revealing apparels has made her Instagram page a hunting ground to poach randy men.
She recently talked to the Entertainer on the pain of being blessed with big boobs.
Her words:
" One big problem of having big boobs is the attention you get. People keep staring and that could be very embarrassing.

The other one is the backaches and the difficulty of wearing or getting bras that fit your boobs.

" Getting clothes that fit you properly without your blouse jumping out is another problem. Then, the weight of the boobs. You keep on having bra marks on your shoulders."

"You feel different from every other woman, like you are unique. You feel blessed. As for your relationship with men, it is almost always negative. Most of them come to you mainly because of the breast, so, it is difficult to tell who truly likes you"