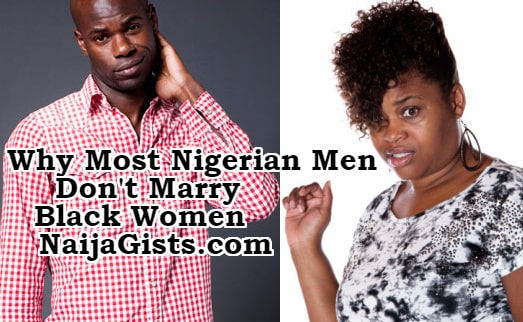 Why Nigerian Men Don't Like To Marry Black, African American Women. Their Attitude Problem That Turns Men Off
A piece by popular commentator Jacob Flow in response to US citizen Donna's concern about her Nigerian boyfriend.
If you miss the report that brings about this post, please read it here.
Most folks just come here to say nonsense, the ignorant ones that don't have no clue of what's going on in their respective lives , wants to advise another person, Can a blind lead the blind.
The lady in question is crazy for coming to this forum to ask for advice.
Here in the US, they live the most miserable life style when it comes to marriage or infidelity, Donna needs to tell us how many baby daddy she has before meeting this brother and why she never got married to any one from America.
To hell with her citizenship, many of them end up in jail /shelter and government support with their so called citizenship.
She can marry him or go marry the American dude that will put hands on her, take her money and have another kids with another woman.. Its only when they dealing with a foreigner that want to claim Holier than Thou……She can keep her citizenship and remain single or get married… Today, seventy percent of African-American women are single. Unfortunately many of these sistas don't understand it's the little things they do that are keeping them from having a healthy relationship with a Black man. I feel if Black women had any insight into how they were acting they'd understand why they couldn't find that "good" man who will want to share in a relationship with them.
Want to know why seventy percent of Black women are single?
Here are some of the reasons:
Negative Attitude
There's always a storm cloud around a Black woman. Because she's constantly down in the dumps she projects negative energy about herself. That negative energy makes people stay away from her and it erects a wall around her that keeps her from connecting with people.
Ironically it's this attitude that keeps her from the very people she professes to want in her life like a good man. Most Black women don't know that like attracts like and in order to get a good positive Black man, a Black woman must be good and positive as well.
Defensive body language
Because a Black woman is always on the defensive she's always acting in ways to make people keep their distance. Crossed arms, crossed legs, haughty looks, are all signs a person isn't interested in connecting with someone. What many Black women don't understand is that expression of this body language is like erecting a brick wall in front of themselves turning away the very men they complain won't talk to them.
Hostile demeanor
A Black woman rarely smiles. Her face is often twisted in a scowl or a grimace of disgust. These facial expressions make people turn away from someone and avoid them. A smile is a sign that someone is approachable. When someone smiles, it's a sign that there's a chance for friendship and possibly a personal connection. But when a person is always scowling or grimacing it's a sign to avoid them.
Verbally abusive African-American women do not know how to be tactful. Instead of choosing their words carefully and being sensitive to people's feelings, they often say things that insult or offend people. Worse, when Black women speak to people it's with a harsh or a condescending tone of voice. Many Black women have been conditioned to behave defensively in all aspects of their life and they don't understand that the abrasive way they speak to people keeps them away.
Emotionally abusive A Black woman doesn't know how connect with men emotionally. Because she wasn't raised understanding how to express her emotions to men she's always on the defensive. And because she's always on the defensive all of her expressions of emotions often come across as attacks. This alienates the men in her life and keeps them from getting close to her.
Never a kind word.
A Black woman rarely has anything positive to say about anything or anyone. They never tell the men in their lives that they've done anything good for them. Some don't even say please or thank you. Little things like this are expressions of appreciation and gratitude. If a person can't express their feelings towards someone they care about then how can they have a relationship with them?
Black women need to think about it this way: Would anyone want to come home to someone who always complains, is NEVER HAPPY, and NEVER SATISFIED? That kind of person is just GRATING and will DRIVE PEOPLE AWAY FROM THEM.
Unwilling to fight fair
When African-American women they argue with a Black man, they just don't disagree, they hit below the belt. They launch into personal attacks about handicaps, unemployment, or other issues Black men having. These attacks hit brothers like fists, knocking them down emotionally. As they heal from their wounds they learn to keep their distance from Black women. Some are so emotionally traumatized from the abuse that they want nothing to do with Black women in the future.
Always has to get the last word in
A Black woman can never let a man cool down and go back to his corner when he decides to leave an argument. When a man is upset and retreating from the conflict, she follows him looking to get one last statement in. And when she does this, she goes in for the kill with low blows and cheap shots in an attempt to humiliate her man and make him feel worthless.
Sistas need to understand that sometimes it's best to let a man walk away and keep her comments to herself.
Black Women Are Unsupportive
When a Black man wants to do something and asks a black woman to be there for him, Black women aren't there to provide support at all. Instead of helping their men in their careers or even in their hobbies, Black women often put the needs of others in front of the needs of their partners. And no man wants to be a fifth wheel in a relationship where he's supposed to be a partner.
When a woman doesn't support her man it makes him feel like he isn't being valued. And when a man feels like he isn't valued by his partner he decides to abandon the relationship, either emotionally by disconnecting or physically by cheating.
Some Black Women Don't Have Respect For Their Men
A Black woman won't show a Black man the most basic of courtesies. She won't introduce him to her friends and family. She won't stand up for him when people speak bad about him. And a woman who won't stand up for a man won't stand with him in a time of crisis.
They Destroy and damage Their men's property
When some Black women are upset with their man she'll destroy his property. Cut up clothes, key his car, break his awards and keepsakes. By destroying his things, it's a clear sign that she has no respect for him.
Mocks and belittles a man's hobbies and interests.
Because someBlack women are narcissistic, they don't see value in anything relating to what a Black man does. If a Black man has hobbies and interests that don't relate to sating her ego (buying her stuff), she'll mock them and belittle them as "stupid", "childish" and a "waste of money". Because she doesn't see the personal value they have to him she mocks and insults them not knowing that she's showing how little respect she has for him.
Mocks and belittles men in the company of her friends and family.
Black women are known to make fun their boyfriends and husbands when out with their girlfriends. Some are known to mock and belittle their men in front of friends and family at social functions!. These actions speak volumes about a Black woman's character. How can someone profess to love someone in private yet show them absolutely no respect in public?.
This is the kind of public humiliation and emasculation makes a man feel worthless. It's the kind of cruelty shows men that they aren't respected, valued or appreciated. It's the kind of behavior that drives men away from a woman into the arms of another woman.
Arrogant.
A Black woman often thinks she knows everything. She's unwilling to listen to others or defer to another person's knowledge, especially if it's a Black man. Because she's so proud she'd rather fail and be the "strong black woman" rather than ask for help from her partner, the Black man. Because In a Black woman's eyes she is NEVER wrong and can NEVER be wrong.
And Because a Black woman believes she is NEVER wrong, she hides her flaws from everyone. That makes it hard for anyone to connect with her. What most black women don't understand is it's only when people understand they aren't perfect that they can have relationships with each other where they support and care for each other.
Most Black women think they're better than everyone else.
Black women think they are PERFECT and think everyone must come up to the level of pseudo greatness they imagine themselves at. They create unrealistic lists of criteria and think men are supposed to jump through hoops to meet their ridiculous standards. This is why they're deeply disappointed when they try to pursue relationships with the opposite sex. No real person can ever be what they imagine them to be. Lady go marry your fellow American , why are you looking for a Nigerian in the first place.
Lady go think and know what you really wants out of life please and my advice to the Ignorant Nigerians, Kill your fellow brother without facts from both sides of the aisle… later you want to blame Buhari and Jonathan for your failure.