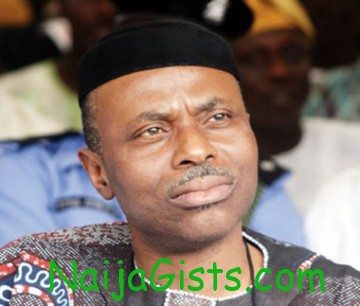 Olusegun Mimiko
March 16, 2012 – Ondo State: Mimiko approves N22,000 minimum wage
Ondo State Governor Olusegun Mimiko said on Thursday that he had approved N22, 000 as minimum wage for all categories of civil servants in the state, starting from April.
Mimiko stated this in Akure, at a seminar organised by the South-West zone of the Nigeria Civil Service Union.
The seminar had as its theme, 'Building Robust Workplace Relationship for Union Executives and Management in the Public Service.'
The governor announced that 290 vehicles would soon be distributed to the 18 local government councils to boost public transportation.
He said, "You will all recall that the Federal Government last August approved the payment of N18, 000 as minimum wage to Nigerian workers.
"In Ondo State, we started our own from July and today, I want to inform you of my approval last night, the payment of N22, 000 as minimum wage in Ondo State with effect from April 2012."
He said the decision was borne out of his administration's desire to make life more meaningful to its workers and the masses.