Naija Gossip
Primate Joseph Abiodun Adetiloye Is Dead: Ex-Anglican Archbishop Dies At 83 Today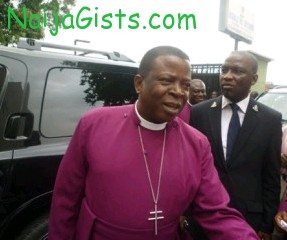 Dec 14, 2012 – Primate Bishop Joseph Abiodun Adetiloye Is Dead: Ex-Anglican Archbishop Dies At 83 Today
A former Archbishop/Metropolitan of The Church of Nigeria (Anglican Communion), Dr. Joseph Abiodun Adetiloye, has died aged 83.
Adetiloye died in the early hours of Friday.
The Ekiti State Governor, Dr. Kayode Fayemi visited Adetiloye's family home in Odo Owa, Ekiti State, to commiserate with the family, according to a news website, Eagle Online.
A profile of Rev. Adetiloye on the website of the Anglican Communion reads: Abiodun Adetiloye is an enigma of some sort; a multi-dimensional personality a man of fame and great worth.
Born in the town of Odo-Owa in the Ijero area of Ekitiland, Nigeria on Christmas Day, 25th December 1929, his father died when he was only three years old and the hope of seeing him through life was badly shaken and threatened.
But in what looked like a providential twist of fate he towered well above his peers and contemporaries and became a reference point for God-guided success and fulfillment. He had been acknowledged as being a rare beneficiary of God's unique blessings, picking his life's roses sometimes as if without effort yet with greater success stories to tell always.
After the basic primary and secondary education in Ekiti, Joseph Adetiloye was admitted to Melville Hall; and on completion of the programme, he was made a Deacon and priested the same year. A graduate of King's College, University of London in the U.K. Adetiloye began his career, teaching in schools and colleges but nursing an inner keenness for pastoral work.
He was at one time Vice Principal of the Immanuel College of Theology in Ibadan and it was from there, he got appointed as Provost of the St. James' the Great Cathedral, Oke-Bola Ibadan; under the Episcopal leadership of the Rt. Rev. S. O. Odutola.
He was consecrated Bishop and enthroned on the See of Ekiti in 1970 in succession to the late Bishop H. A. Osanyin. After a very busy but eventful tenure in Ekiti he was translated to the See of Lagos in 1985 as Bishop of Lagos; and he was elected and later presented as the Primate of all Nigeria and Archbishop, Metropolitan Church of Nigeria Anglican Communion.
Reviewing the achievements of a man described as "a beacon of hope for Nigeria, "a master of God's word", "an Evangelist simpliciter", "Apostle of Evangelism" and "silent reformer".
The starting point was with the introduction of new dimensions in evangelism and launching of a decade of evangelism, design of a new curriculum for the training of the Clergy, admission of non-stipendiary professionals into the ministry, establishment of the Lagos Anglican Diocesan Seminary, the founding on St. Bartholomew's day 24th August 1978 of a Lagos Anglican Bible College (LABICO) (as a means of combating Biblical illiteracy.) There were also the Innovative introductions of Directorates to focus mainly on the salient issues of Evangelism, Sunday School, Prison Chaplaincy, Hospital visits and Health issues, the Youths and the Elderly. 
[Source:Punch]