Breaking News
Relations Of Lagos Airplane Crash Victims Storm Airport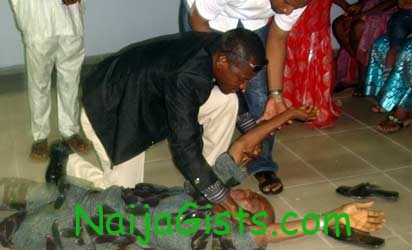 June 4, 2012 – Relations and friends, sympathizers who besieged the conference room of the Murtala Muhammed Airport, MM2, local wing broke down in tears and wept uncontrollably yesterday as they listened to the names of their loved ones being announced among the people onboard the ill-fated Dana airplane. naijagists.com
According to a report from Vanguardngr, it took the intervention of the armed security personnel to control the crowd who were already threatening to beat up officials of Dana Airline for delaying the release of the manifest.
When we spoke with Professor Peter Okebukola, immediate past Executive Secretary, National Universities Commission, NUC, at the airport, who was scheduled to travel on the same crashed aircraft to Abuja confirmed that NUC lost four staff to the crash.
Okebukola, who was visibly shaken by the development, described the crash as a national disaster.
According to him, "the plane that crashed was supposed to take me to Abuja before we heard the sad news. I am deeply sad. This is a national disaster. As I speak to you now I can confirm to you that NUC lost four staff in the plane crash. The names are Mr Mamud Dokawa, Architect Chinwe Obi, Mrs Shuaibu and professor Nwoleri,  past Vice Chancellor university of Technology, FUTO, Owerri and the leader of the NUC team.
Okebukola said he had to go back home as further flight had been suspended by management of Dana Airline.
Meanwhile, Special Adviser, Technical to Minister of Aviation, Mr. Victor Oche Elias, has explained that the pilot  declared 11 nautical miles to landing and when he declared emergency, he was given priority. But the plane crashed 4 nautical miles to landing.
History of the ill-fated Dana aircraft
LAGOS — There are indications that the Dana Air MC Donnell Douglas MD 83 which crashed around Iju-Ishaga area of Lagos ,yesterday has a history of worrying defaults even before original owners, US-based Alaska Airlines sold it to Dana Airlines on February 17, 2009.
According to the information from Aviation Safety Network, an exclusive service of the Air safety Foundation, the ill-fated aircraft was acquired by Alaska Airline in November 13, 1990  with registration number N944AS.
However, on November 4, 2002 the aircraft developed fault and had emergency diversion due to smoke and electrical smell in the cabin area, which engineers said was because light ballast had over heated.
Four years after, the aircraft's health was also called to question when on August 20, 2006, it was again evacuated after landing at the Long Beach, CA due to a chaffed wire bundle that discharged and produced smoke in the cabin area again.
Apparently scared that the worst could happen, Alaska Airlines was said to have on August 21 parked the aircraft at Victorville until September 11 2008 when it carried out maintenance on it.
Eventually on February 2009 Alaska Airlines shifted the burden to Nigeria when it sold the ill-fated plane as 5N-RAM. The MD-83 was manufactured in 1983, announced go-ahead on January 31, 1983 and had first flight on December 17, 1984
It was a longer range development of the basic MD-81/82 with higher weights, more powerful engines, increased fuel capacity and longer range.  It was equipped with slightly more powerful 21,000 1bf (93 kN) Pratt and Whitney JT8D-219s as standard.
The aircraft also had higher operating weights with MTOW increased to 160,000 1b and MLW to 139,500 1b. Typical range for the MD-83 with 155 passengers in around 2,504 nautical miles (4,637km).
This is however not the first time an air mishap has claimed a large number of people. In fact tracing the history of air mishaps in Nigeria, shows that:
Past Plane Crashes In Nigeria
November 20, 1969 – Nigeria Airways BAC VC10 crashes on landing killing 87 on board.
January 22, 1973 – Royal Jordanian Airlines flight 707 carrying 171 Nigerian Muslims returning from Mecca and 5 crewmen died in crash in Kano, Nigeria.
March 1, 1978 – Nigeria Airways F28-1000 crashes in Kano killing 16.
November 28, 1983 – Nigeria Airways F28-1000 crashes on approach in Enugu killing 53 on board.
July 11, 1991 – Nigeria Airways DC-8-61 crashes in Jeddah, Saudi Arabia from system failure killing 261 on board.
September 26, 1992 – Nigerian Air Force A C-130 plane crashes minutes after take-off from Lagos. All 200 on board killed.
June 24, 1995 – Harka Air Services Tupolev 34 crashes on landing in Lagos killing 16.
November 13, 1995 – Nigeria Airways Boeing 737-2F9 crashes on landing in Kaduna killing 9.
November 7, 1996 – A Nigerian ADC( Aviation Development Corporation ) Airline Boeing 727-231 flying from Port Harcourt to Lagos with 142 passengers and 9 crew members crashed on landing, plunging into a lagoon with all on board killed.
January 31, 1997 – SkyPower Express Airways Embraer 110PIA crashes on landing in Yola killing 5.
January 5, 2000 – SkyPower Express Airways Bandeirante 110P1A crashes on landing in Abuja killing 17.
May 4, 2002 – Nigerian EAS Airlines' BAC 1-11-500 with 105 people on board crashed and burst into flames in a poor, densely populated suburb of Kano. 76 on board killed, including 72 on the ground bringing it to a total 148 dead.
October 22, 2005 – A Nigerian Bellview Airlines Boeing 737 airliner with 117 people on board crashes and disintegrates in flames shortly after take-off from Lagos. All on board killed.
December 10, 2005 – A Nigerian Sosoliso Airlines DC-9 crashes in Port Harcourt, killing all 103 on board. Most on board were school children going home for Christmas.
September. 17, 2006 – A Nigerian 18-seater Dornier 228 Air Force transport plane, carrying 15 senior army officers and three crew members crashed leaving only three survivors that sustained serious injuries. The plane with registration number 228-212 crashed in northern part of the country at Oko village in Vandeikya local government area of Benue State at about 10:30 a.m.
October 29, 2006 – A Nigerian ADC( Aviation Development Corporation ) Airline Boeing 737 with 104 on board crashes minutes after take-off from Abuja's airport during a rain storm. All but 6 perished in the disaster. The spiritual leader of Nigeria's Sunni Muslims, His Eminence, the Sultan of Sokoto, Alhaji Muhammadu Maccido was among the dead.
 Build-up to final crash of Dana aircraft MD-83 in Lagos
A Dana Air McDonnell Douglas MD-83 with registration number 5N- RAM that finally crashed, yesterday, killing about 153 passengers on board, was a disaster waiting to happen.
On May 3, an unnamed Lagos station manager of the airline was reported to have drawn the attention of management of the airlines that the aircraft in question needed to be grounded for general check-up but that alarm was ignored.
So on May 11, 2012, the same aircraft that was billed for Lagos/Abuja with more than half capacity passengers and an air return and had emergency landing at the Murtala Muhammed airport.  Reports said passengers on board  had to hurriedly disembark and sought alternative means of travelling.  No casualty.
On May 25, 2012, the same plane that was to do  Lagos/Calabar flight also made another air return to Lagos after the crew reported engine fault. There was also no casualty.
Then came the final straw.  On June 3, 2012, the same MD-83 with registration number 5N-RAM was performing a flight 9J-1993 from Lagos to Abuja with 153 passengers on board when the crew also discovered that the engine had developed fault.  The pilot made a quick air return to Lagos.
But while on a final appraisal to the runway 16L,  the aircraft rammed into a power line, crashed into a build-up area about 5-6nm from touch down and burst into flames, killing all passengers on board.