Crime News
Saudi Arabia Embassy In Nigeria Aiding Human Traffickers Luring Nigerian Women To Work As Slaves In Saudi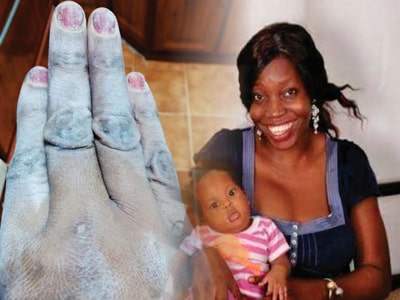 Saudi Arabia Embassy In Nigeria Helping Human Traffickers Luring Nigerian Women To Work As Slaves In Saudi Arabia – Victims Raise Alarm
By Precious Igbonwelundu, The Nation
Precious Igbonwelundu recently met with girls who were lured abroad with promises of El Dorado, now back with hopes shattered, they tell their harrowing stories.

When Peace Chima, 25, was shipped to Saudi Arabia in March, she never knew the life that awaited her. She was told by a supposed agent, Deborah Adejumo, that she would have a better life in the Arab country, where she's supposed to work as house maid for about five hours daily and then have the rest of the day to herself.

It was until she arrived in Saudi Arabia that it dawned on her she was trafficked to become a domestic slave for her Arabian masters, who, she later understood, footed her travel expenses by paying $5,000 to the agent.

With that amount paid the trafficker and the monthly salaries she receives from her masters, Chima has been reduced to a slave to the point that she was beaten with wire connected to electric vibrator for quarrelling with her boss' 20-year-old daughter who allegedly stole her money.
Hell has no other name
Like Chima, Onyinye U, Favour T, Mercy A, Ruth D, Chinonso A, Serena J, Tracy Morgan, Lydia I, Blessing John, Peace C, Motunrayo A and Monsurat O are currently experiencing 'hell' in the hands of their various masters, with a lot of them subjected to sexual abuse.

Several complaints to Madam Adejumo who took them to that country had been met with threats of arrest, harassment with their international passports seized.

Already, Tracy Morgan is said to have gone missing after allegedly being sexually abused by her masters. Another victim Motunrayo, it was gathered, was sent to another family three weeks into her serving her master because she complained of sexual harassment.

The women, who are crying out to the federal government to bring them back home, said they have been subjected to various dehumanising treatments and worst still, the agents were ripping them off their wages.
In a chat with The Nation, Chima said all complaints to the agent fell on deaf ears, adding that their passports were seized at the point of entry into the country.
When she couldn't take the suffering anymore she told her master she was quitting but she was threatened with arrest and accused of theft, an offence that could attract death sentence for her.
She said:
"What we are going through here is unbelievable. We are referred to as Kadama, that's slaves. I have complained to the agent several times but she does not care. She is only interested in the money she makes off us.

"Some of us are facing sexual harassment with their madam's son and husband. Some are missing now. I also have some friends who are working here but with different company and facing the same thing.

"Some have fled the homes they were posted to and are on the streets trying to survive without their passports. That is dangerous but they do not have another option.

"Right now, Tracy is missing and her sister, who is also in Saudi Arabia, has not been able to locate her. She reported to the agent in Nigeria and nothing has been done about it. We cannot say if she's alive or not."
The victim, who is currently having a running battle with her trafficker for refusing to pay her $750 each month for eight months, said she paid the first four months until she realised that their masters had paid $5,000 before they were brought in.
"My employer paid her $5,000 for our documents and flight but she told us back in Nigeria that she was footing the bills and that we will pay her our salaries for eight months to cover the expenses.

"I used to pay her the money until one day I got tired and said I wanted to go but was told by my master that they paid the agent $5,000 to bring me. Can you imagine that kind of wickedness? The money was collected upfront and she was still collecting our monthly salaries not minding the demeaning treatments were are subjected to here.

"Since I knew about it, I have refused to give her any kobo. Let her do her worst. I am just tired of all the suffering. Imagine that my boss' daughter stole my money and I caught her. We started arguing over it and her mother put electric on my body for quarrelling with her daughter. Yes, they plugged me to electric and I was shaking. They flogged me too.

"They use us like animals here. That wicked woman told me in Nigeria that I was coming to do housemaid job and that we will be three to five maids in a house, with each doing specific jobs. She said once I was done with my work, I can go and do other things with my time but all those turned out to be false.

"I work round the clock. There are days I do not sleep and I do not have right to complain when I am tired. I have been working with a family of 16. They have 20 rooms en-suite. The visitor's room is like three rooms in one and the parlour like five.

"Sometimes I cook more than six times a day and most times I do not share of the meal; I clean all these rooms and toilets daily, wash clothes. I go to bed by 3am and wake up by 5am. These people do not care whether I am well or not. They do not care if I eat or not. All they want is to get their job done.

"The agent told me that once we arrived Saudi Arabia, our employer will provide everything we need like clothes, food, cream, soap, shoes, room, medicine and freedom.

"I have being the one buying my personal needs including the slave uniform which we wear here as maids. Most times, I am not allowed to eat food despite the fact that I cook between three to six times a day. I work from morning till the next morning without food. When I am sick and tell them, they say it is none of their business because they have paid for me," she said.
Explaining her face-off with Adejumo, Chima said some of the trafficked women even paid the agent over N500,000 back in Nigeria, adding that she was still taxing those ones.
"Myself and my friends have resolved to pay her no kobo even if we are killed. What kind of exploitation is this? Every month the woman ships people to Saudi Arabia and makes money from their masters. Yet, she still collects eight months of their salaries, despite all these suffering we go through? She should do her worst."
Ibukun James (not her real names) also told The Nation how she was made to mix cement with her bare hands in order to repair a broken oven.
While her master and his wife respect her dignity as a human being, John said their adult children were basically slave drivers. Aside being over laboured with domestic chores, John said they usually make her climb ladder and wash the outside of the house as well as the walls.
Asked what her employers did after seeing what the cement did to her hands, James said "nothing. They just told me to apply Vaseline on it."
Another woman Chidinma, who was trafficked to the country last December, claimed some of the women in her batch were asked to burn themselves for refusing to work.
They were also made to drink water from toilet by an Egyptian member of staff of the company that trafficked her because they refused his inordinate sexual advances, she said.
"Our agents don't care about what people go through here. All they care about is their payments. When you complain to them, they either block you or ask you to keep enduring.

"I volunteered to speak out to Nigerian authorities so they can look into this issue because our women are suffering. We were sold into slavery without our knowledge, or consent.

"Many face hard labour, sexual harassment. Many have been killed, starved and even stopped from communicating with their families back home.

"They seize our phones and passports to cut us off from the rest of the world and ensure we cannot runaway. There's so much maltreatment here. Many of us work 19 hours daily without food and with beatings.

"God! Some will be raped and when their madams catch their husbands in such act, they cover up for them and punish the maids without mercy. When you tell them you want to go back to your country, your passport will be seized. We are dying in this country. We are crying out to our government to safe us. These pains and sufferings are unbearable. They call us slaves and that is how we are treated.

"Even the companies that take us there do not treat us well. They are majorly the cause of this problem. When an Arab family pays over N2million for a housemaid and keeps paying the company monthly salary, what do you expect? They will overwork the maid. In some homes when you finish your job, they will take you to a neighbour's or a sister's house to still work. If you refuse to do so, you are punished.

"There's an Egyptian guy who works as a supervisor for the company that brought me. This guy will be sleeping with anyone he fancies and you dare not say no when he makes his intentions known to you. If you decline, you will be in that company for months without work, salary nor steady food and water."
Victim's relatives cry out
Lamenting the inhuman treatment meted the women, a relative to one of the victims, Philip Nwagbo said he had contacted the National Agency for the Prohibition of Trafficking in Persons (NAPTIP) and reported the matter but nothing had been done.
He said that he also sent a message to Presidential Adviser on Diaspora Affairs, Mrs. Abike Dabiri-Erewa but received no reply.
According to him,
"I called NAPTIP and gave them all available information. I even gave them the telephone numbers and address of the agent who trafficked 12 of these women to Saudi Arabia.

"I first called them over three weeks ago and since then; I have called not less than three times. Even yesterday (Thursday), I called again but the guy who picked the phone said they were busy and will call me when it is my turn.

"I do not know what he means by that statement. Is it when the women are killed that it will get to my turn? If they cannot bring them back, they should at least get the agents to produce their passports so that the women who can come back on their own will."
Traffickers' modus operandi and government's failure
The change in tactics by human traffickers did not start today. It has been happening unabated for years now. They present themselves as agencies that help unemployed persons secure jobs within and outside the country; invite their victims for interviews.
Afterwards, they shortlist those they desire and tell them they have jobs for them abroad, with promises of fat salaries and liberties. These women are made to belief they just have to pay back some months of their earnings to the company to defray their travel expenses only to realise they have been sold as slaves on arrival at the designated countries.
Their passports are collected at the airport and most times, they are moved to a camp on the outskirts of the city. They are subsequently handed over to their masters at whose residence they are branded with the slave's uniform and identity cards.
In the course of investigating a similar case in April, The Nation found out there were insiders at the Saudi Embassy in Nigeria that aided this illicit trade, said to be a legal practice in that country.
The victim, Bello, became unwell and collapsed intermittently without care from her masters and was constantly being threatened by her agent, a certain Olori Omolara, whose details including telephone numbers as well as the contact of her Saudi Arabian accomplice, our Correspondent provided NAPTIP.
Despite the above, Omolara, who told our Correspondent then that she was not afraid of anyone, was yet to be arrested.