Crime News
Stolen Sack Refuses To Come Off Thief's Head In Tanzania As Old Woman Casts A Witchcraft Spell On Him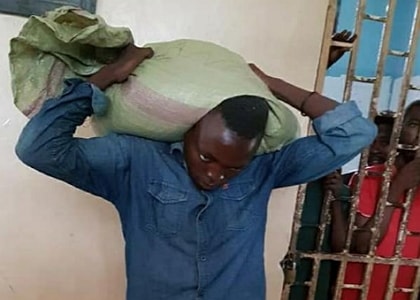 Thief Walks Into Police Station As Stolen Sack Refuses To Come Off His Head In Tanzania..Photos
Stolen Sack Refuses To Come Off Thief's Head In Tanzania As Old Woman Casts A Witchcraft Spell On Him
This looks like a typical Nollywood movie story but it happened in real life in far away Tanzania, East Africa.
The man identified as Frank Buhet reportedly stole the above sack from a defenseless old woman who allegedly placed a curse on him.
On getting to his home, the sack refused to come off his head. All effort Frank put in to get the load off his head failed.
In a desperate attempt to free himself from the stolen sack which has now turned into a burden, he walked into a police station where he appealed to officers on duty to help him track down the old woman he stole the sack from.
Everyday for the thief, one day for the owner.
You go fear witchcraft… Money Belle Politicians chopping our money deserve this kind tit-for-tat punishment.