Political News
Tinubu Honours Buhari Invitation Over Ambode, Says Jide Sanwoolu As Governor Will Move Lagos Forward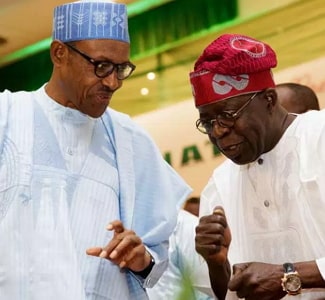 Tinubu Honours Buhari Invitation Over Ambode, Says Jide Sanwoolu As Governor Will Move Lagos Forward
APC  stalwart Asiwaju Bola Ahmed Tinubu said on Monday night that his position on the candidates battling for the party's governorship ticket remains.
His media adviser Tunde Rahman said last night in a statement on Tinubu's meeting with the President in Abuja:
"Asiwaju Tinubu and Chief Bisi Akande were invited by President Buhari and it turned out to be a good and productive meeting. Asiwaju was quite pleased to have conferred with the President who has always shown himself to be a committed party member and a true democrat.

"Just like the President, he is looking forward to a good and credible primary that is peaceful and free of rancor. As previously stated, Asiwaju plans to vote in this primary and his position regarding the relative merits of the candidates remains unchanged."
In the race are incumbent Akinwunmi Ambode and former Commissioner Jide Sanwo-Olu. The primary election is today.
Asiwaju said of his choice in a statement on Monday:
"I am encouraged by the presence of a candidate in this primary, who has served the state in senior positions in my administration, the Fashola administration and even in the current one. While possessing a wealth of experience and exposure, he is a young man endowed with superlative vision and commitment.

"Most importantly, he understands the importance of the blueprint for development. He esteems it as a reliable and well-conceived vehicle for the future development of the state. He also knows the value of reaching out and working with others in order to maximise development and provide people the best leadership possible. With people like him at the helm, the state will write the proper history for itself."