Celebrity Gossip
Whitney Houston's Daughter, Bobbi Kristina Involved In Car Accident While Arguing With Boyfriend, Nick Gordon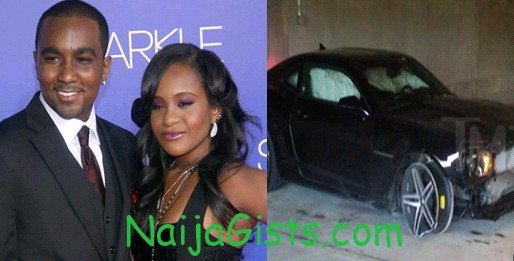 Sept 26, 2012 – Whitney Houston's Daughter, Bobbi Kristina Involved In Car Accident While Arguing With Boyfriend, Nick Gordon
The daughter of late Whitney Houston, Bobbi Kristina was involved in a very serious car accident on Sunday night at Alpharetta, Georgia. naijagists.com
According to TMZ report, Bobbi Kristina was in the passenger seat at the time of the crash.
The crash destroyed the entire front-end of the vehicle involved, a black 2012 Camaro that belongs to Bobbi's boyfriend, Nick Gordon.
We learnt the lovers were arguing at the time of the crash.
Nick Gordon sustained some injuries.
After the accident, the car was missing the front right tire, the front bumper was torn off, and the airbags were deployed — but somehow it got back to Bobbi and Nick's apartment.
Cops went to the apartment soon after the accident for a noise complaint, but no one answered the door.
According to the incident report, officers saw the car parked outside the apartment with its hazard lights on — and it appeared it had been driven in a damaged state.
We're told the accident is currently under investigation. Calls to Bobbi's people were not returned. (TMZ report)