Crime News
Woman Who Vomited Raw 500 Naira Notes Days After Yahoo Boys Stole Her Underwear In Delta State Dies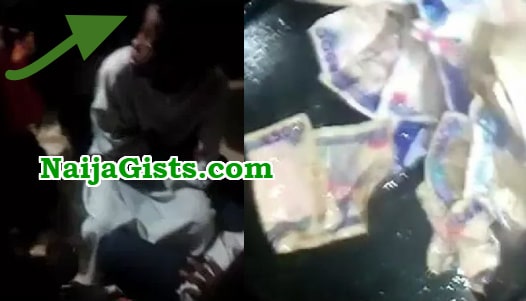 Housewife Who Vomited Raw Naira Cash, 500 Naira Notes Days After Yahoo Boys Stole Her Underwear In Effurun Delta State Dies
The latest trend among internet fraudsters in Nigeria today is worrisome.
The desperate young men engaging in internet scam have now devised another tricks of making fast money.
They are now using ladies underwear to do money ritual.
The young woman whose under wears got stolen by some suspected internet fraudsters called Yahoo boys in Delta state few weeks ago has died.
Mariam Abdul who became a victim of some suspected ritualists vomited 14  five hundred Naira notes around 3:45am on Sunday morning.
She was rushed to the hospital by her husband, Taye Adekunle.
Sadly, she gave up the ghost yesterday afternoon.
Early December the deceased and her husband raised an alarm that her panties were missing .
"We suspect that whoever stole the panties might have used them for ritual since it is the reigning thing,"– a source said.
The shocking incident caused panic in Effurun, Uvwie LGA of Delta state.
So sad!!.
May her soul rest in peace.