Crime News
AAU Lecturer ASUU Chairman Monday Igbafen Suspended Over Sex For Marks & Sexual Harassment Allegations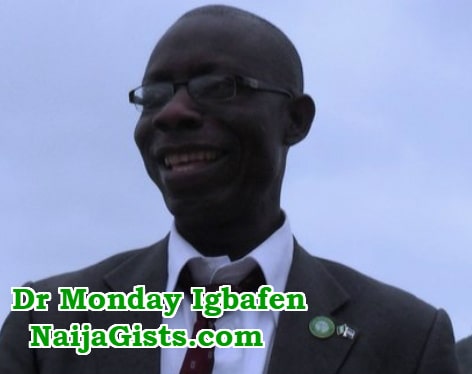 AAU Lecturer ASUU Chairman Monday Igbafen Suspended Over Sex For Marks & Sexual Harassment Allegations
Ambrose Alli University, Ekpoma management, have suspended the chairman of ASUU branch of the university, Dr. Monday Igbafen.

Igbafen was suspended over alleged gross misconduct bordering on sexual harassment and threats of sex-for-marks.

The suspension order was contained in the University's News Bulletin, dated 13th February, 2019 and signed by the Deputy Registrar Information/Public Relations Officer, Edward Aihevba, titled, "Suspension of Dr. M.L. Igbafen, Associate Professor in the Department of Philosophy."

The embattled ASUU chairman, however, denied the allegation, saying it was an attempt to cow him.
The official statement reads in part:
"The university community is hereby informed that Dr. M. L. Igbafen, Associate Professor in the Department of Philosophy, has been suspended from duty following his arraignment before the Senior Staff Disciplinary Committee on allegation of gross misconduct bordering on sexual harassment and threats of marks-for-sex.

"He had earlier been accused of this offence and an investigative panel set up, which found him culpable and indicted.

"Recently, there was petition by the family of the female student involved, asking that Dr. M. L. Igbafen be brought to book, failing which the university management would be reported to ICPC for failure to act.

"On receipt of the petition, the university management asked for his comments. His response was found unsatisfactory. He was, therefore, arraigned before the Senior Staff Disciplinary Committee. As due process demands, he has been suspended from the university pending the determination of the allegation leveled against him.

"He is, therefore, not allowed to participate or be involved in any university duties, activities or functions, except those related to Senior Staff Disciplinary Committee during the period of suspension."
Speaking to our Correspondent on the phone, Dr. Igbafen said the allegation was an afterthought when the university discovered that he could not be compromised.
He said:
"If you have been monitoring developments in AAU, Ekpoma, you will not be surprised that a paper like that is coming from the university administration. It is the climax of a desperate vice chancellor who has so many things to hide, which we will bring to the Press.

"We have been battling the vice chancellor who wants to impose himself on the university. I'm doing my job as ASUU chairman. There have been several attempts to make me compromise, but I refused; and when they discovered that they were unable to compromise me, the next thing was to resort to blackmail.

"Ask the vice chancellor, when did this issue of sexual harassment happen? The issue at stake is an attempt to cow the ASUU chairman. We will address a world Press conference to address the issue."
Dr. Igbafen also warned against publishing what he called "a libelous document."
"We want to advise that we need to be extremely careful, so that you will not be an accessory to the libelous paper.

"If you look at that paper with you, you will know that it is a libelous document and we will respond at the right time and we will collate all the papers that will come out," he said.