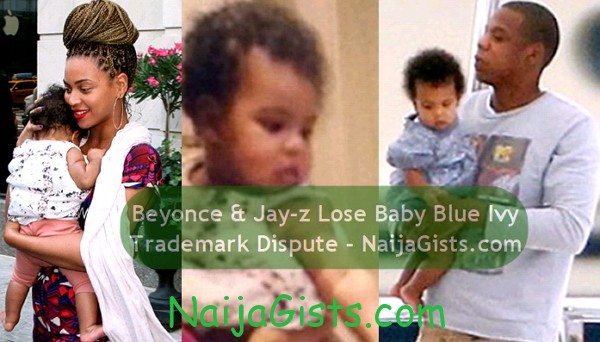 Oct 24, 2012 – Beyonce Loses Battle To Trademark Baby Blue Ivy's Name
The mama and papa of Baby Blue Ivy, Beyonce and JayZ have lost their legal battle to trademark their baby daughter's name. naijagists.com
Baby blue Ivy who has a name similar to a Boston-based firm has been denied the trademark.
Beyonce and Jay-Z were hoping to trademark the name of their baby, Blue Ivy Carter, who was born in January 2012, reports The Examiner.
In doing so, they would have used the name to broaden their business efforts to include cosmetics and baby products under the name "Blue Ivy."
The trademark was filed weeks after their daughter was born, but the petition ran into problems when they discovered that name was already being used by a Boston, Massachusetts wedding and event planner, who goes by the name "Blue Ivy Events."
So, why would Beyonce and Jay-Z wish to trademark Blue Ivy? It could be because they can protect their daughter's name from being used on anything from cribs to baby blankets.
CBS News notes that the ruling against Beyonce and Jay-Z means that the US Patent and Trademark Office doesn't think the celebrity couple have any legal rights to the name Blue Ivy.
The petition to trademark Blue Ivy likely came after vashion designer Joseph Mbeh submitted his own application to trademark the name "Blue Ivy Carter NYC," as well as the name "Blue Ivy Carter Glory V" for use in a line of fragrances.
The trademark denied both filings, citing that the name belonged to a celebrity baby, and that consumers may assume that the products were approved by the baby's parents.
The US Patents and Trademark Office did not forbid the couple from using the name Blue Ivy in other business projects, although it will not have a trademark. (credit:Inquistr)
Why trademark a baby name?
Too much money na wahala o.