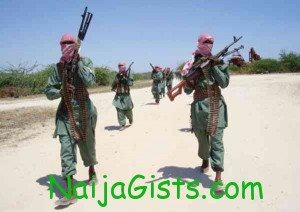 Oct 13, 2012 – Boko Haram Begged To Embrace Dialogue
The top traditional leader in the Boko Haram beleaguered Borno state in Northern Nigeria, Abubakar Ibn Garbai, the Shehu of Borno, has renewed his appeal to the sect to embrace dialogue and end its violent campaign.
Ibn Garbai made the call at an emergency meeting with some Borno elders in his palace in Maiduguri.
"I want to make special appeal to members of the sect to please sheathe their swords and embrace dialogue with the government. They should please consider the hardship being faced by the people due to their violent campaign," he said.
Ibn Garbai also denied claims that he was instrumental to the arrest of some individuals by the Joint Task Force (JTF).
"I want to say categorically that I have no hand in the arrest or victimisation of any persons by the JTF. The people must understand that the JTF does not take orders from anybody in the state, they take orders from their commanders only," he said.
Ibn Garbai also challenged the Borno Elders to come up with suggestions on how to end the Boko Haram crisis.
He regretted the escalating crisis, which he said had crippled both economic and social activities in the state.
"I want to appeal to all residents of the state to embark on prayers and fasting to seek divine intervention on the crisis,'' he said.(PM reports)