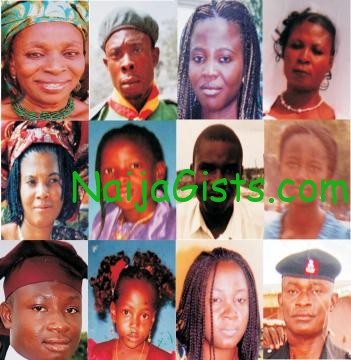 Few Boko Haram Attacks Victims
May 16, 2012 – Boko Haram Carried Out 118 Attacks, 308 People Killed
According to Ret. Navy Captain, Caleb Olubolade, Nigeria' Minister of Police Affiars, Boko Haram sect has so far carried out 118 attacks in 6 northern states and the FCT, killing 308 people. naijagists.com
Mr Olubolade said this on Tuesday in Abuja while enumerating the achievements and challenges of the ministry in the last one year at the on-going Ministerial press briefing.
The minister said that the attacks were carried out in Bauchi, Borno, Kaduna, Niger, Yobe and Plateau states.
He said that 33 suspects connected to the group were arrested.
Olubolade appreciated the concerns of Nigerians to issues of personal safety and security, saying the government has taken concrete measures to ensure peace and stability in the country.
According to him, criminal gangs have taken advantage of technology to perpetuate evil acts and assures Nigerians that the police are being trained and equipped to combat the new security challenges.
"It is important to note that achievements of the police in stemming crimes and terrorism is not so publicised, but I can assure that the police are making progress.
"The police reform programme was put in place by the federal government to improve capacity building, training, welfare and community policing," he said.
Olubolade attributed the lapses in the performance of the police to faulty policies, assuring that such policies were being reviewed to ensure optimal performance.
According to NAN report, Information Minister Labaran Maku said that the police was responding more effectively in curving criminal activities, which he noted had become the past time of some people in the society.
Maku called for a change of attitude among Nigerians toward the police, so as to appreciate the good work it was doing and to support it in the fight against criminals in the society.
Judgment of God aside, the blood of these innocent victims will avenge!