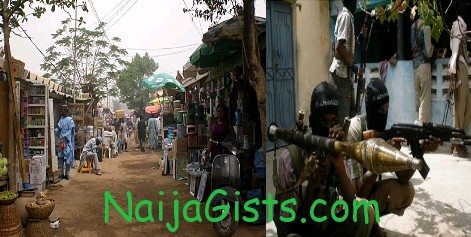 Dec 22, 2012 – Boko Haram Latest Attacks In Kano State Nigeria: Airtel & MTN Masts Bombed  
In the early hours of Saturday the 22nd of December 2012, some gunmen suspected to be Boko Haram militants attacked several targets in multiple bomb explosions in Kano state, Nigeria.
According to sources, the bomb explosion hit Mallam Kato Square in Kano at about 8:30 am in the morning. The bomb target was Airtel office.
"I am hearing a tragic bomb explosion and gun shots right now" said a witness
The explosion reportedly happened at Bata Roundabout around the front side of Sabon Gari Market in Kano state.
Bata is probably the most visited spots in the popular Sabon Gari market.
NEMA Confirms Bomb Explosions On Airtel & MTN Masts In Kano On Saturday
NEMA (Nigeria's National Emergency Management Agency) claims that telecom masts owned by MTN & Airtel have been destroyed in Kano State.
The spokesman for the agency, Yashua Shuaib confirmed the incident this morning with the following SMS
"NEMA has confirmed the attacks on Telecoms masts owned by Airtel & MTN at Old Parade Ground and Malali Rd respectively in Kano city on Saturday morning. Security officials have cordoned off the affected area. No human casualty recorded thus far."
In 2012 alone we have witnessed thousands of attacks on telecom operator's property. In most cases, the assailants either killed or injured security guards protecting the masts.
Though the attack appeared to be similar in nature to that of Boko Haram's previous attacks, as at the time of this report, no group has claimed responsibility yet.