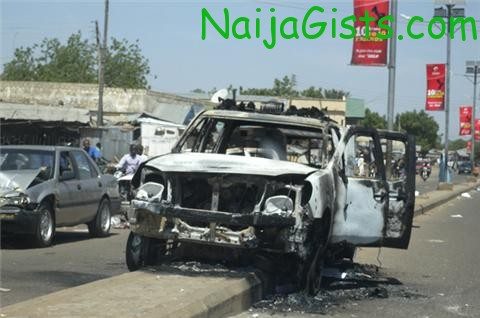 July 13, 2012 – Boko Haram Suicide Bomber Attacks Maiduguri Central Mosque
A Boko Haram suicide bomber today blew himself up close to Maiduguri' Central Mosque killing himself and 5 other people.
We learnt the Borno State Deputy Governor Zannah Mustaphar and the Shehu of Borno, Abubakar Kyari were among the dignitaries close to the scene of the suicide bomb attack.
The 2 were evacuated alive from scene of the blast.
How Maiduguri Central Mosque Suicide Bombing Occurred
According to eyewitness report, after the observance of Friday prayers at Maiduguri Central Mosque, a 15 year old boy was noticed walking suspiciously towards the dignitaries as they exited the mosque.
We learnt security operatives quickly move to the scene to apprehend the boy.
As they were apprehending him, a time bomb exploded killing 5 people instantly.
Police officers were among the people confirmed dead.
"Five people have been killed and six others injured in the Maiduguri Central Mosque suicide bomb attack," said Sagir Musa, JTF spokesman
For more update on Boko Haram visit https://naijagists.com/boko-haram-news-update-in-nigeria/