General
Boy With Elephant Leg Needs Help
May 17, 2012 –  Boy With Elephant Leg Needs Help
A 10 year old boy, Vincent Oketch is currently struggling to fight for his life as his condition is getting worse. naijagists.com
As it is now, his legs have swelled to elephant size — but no one knows how to treat him.
Vincent Oketch, ten, is thought to have a lymphatic problem that caused the swelling to grow over time.
He is also believed to suffer from elephantitis and tissue deformity while the swelling has left him with a dislocated hip and broken ankles.
But tests suggest he also has necrotising fasciitis — which could lead to his legs being amputated to save his life.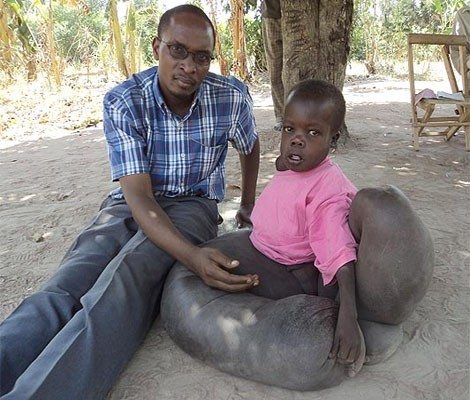 The conflicting diagnosis mean doctors in Kampala, Uganda, are confused as to how to treat the youngster.
Now medic Isaac Osire, who runs an organisation called EDYAC that helps children from poor villages get medical treatment, is appealing to British experts for help to save the boy, from rural Peta.
He said: "We desperately need a British doctor, or foreign medical expert, who can offer advice about Vincent's case.
"The case is extremely complex and we'd like to find out if there is anything that can be done to save his legs."
Dresses
Vincent's dad Tito Opoya told how his son first began having problems when he was just 18 months old.
His parents were too poor to take him to a clinic so the swelling continued to get bigger as his legs grew.
Now he can no longer walk and barely crawl.
He has to wear girl's dresses and skirts because he cannot fit into shorts or trousers.
Tito said: "It really upsets him because he has to wear pink and the other kids tease him.
"He is only small, but his legs are really heavy and weigh more than he does."
A British doctor currently visiting Uganda hopes to be able to see Vincent in the next few weeks to assess his condition.
Dr Osire said: "We're extremely grateful for any help.
"I want to do whatever I can to save this boy, and give him the chance of a normal life."
Tito added: "I hope doctors can do something to help my son. I am grateful to Dr Osire for all he has done for us.
Lord please have mercy on this young man. (The Sun)