Kebbi State News
Buhari Laments As State Governors Demand Fresh Bailout From FG Amidst Unpaid Salaries Allegations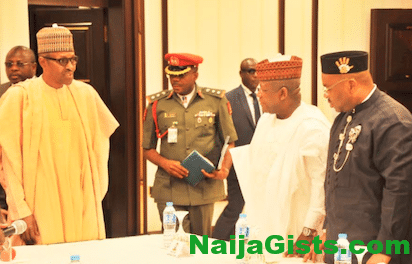 October 18, 2017 – Buhari Laments As State Governors Demand Fresh Bailout From FG Amidst Unpaid Salaries Allegations 
President Buhari yesterday lamented that despite the various interventions by the Federal Government, there were still complaints and agitations by workers over unpaid salaries and allowances by state governments.
He wondered how the unpaid workers had been managing to meet their needs.
Buhari made his position known while addressing a delegation of the Nigeria Governors' Forum, led by the forum's chairman, Abdulaziz Yari, when they visited him in the Presidential Villa, Abuja.
Yari had led Governor Emmanuel Udom of Akwa Ibom State, representing the South-South; Atiku Bagudu of Kebbi State, representing the North-West; Abdulfatah Ahmed of Kwara State, representing the North-Central; Deputy Governor of Ebonyi State, Dr. Eric Igwe, representing the South-East; Mohammed Abubakar of Bauchi State, representing the North-East; and Rotimi Akeredolu of Ondo State, representing the South-West, to a meeting with the President.
During the meeting the governors, through Yari, requested that the President ensure the release of the 50 per cent of the Paris Club loan refund so that the funds could be built into the 2018 budgets of the state governments.
The various interventions the current administration had extended to states included bailouts, Paris Club loan refund and budget support.
Some governors were alleged to have diverted part of the bailouts.
The President told the governors that the plight of workers in the states needed urgent attention as many could barely survive.
"How can anyone go to bed and sleep soundly when workers have not been paid their salaries for months.

"I actually wonder how the workers feed their families, pay their rents and even pay school fees of their children," he said.
[Punch NG]