Political News
Group Slams Fayose For Diverting Workers Salaries & Pensioners Fund, Calls Him Callous & Greedy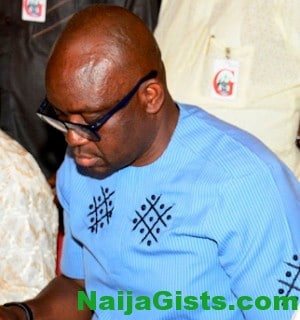 October 18, 2017 – Group Slams Fayose For Diverting Workers Salaries & Pensioners Fund, Calls Him Callous & Greedy
A group under the umbrella of Ekiti State Conference of Nigeria Political Parties (CNPP) has expressed shock at alleged diversion of funds meant to pay pensioners and workers by the Ayo Fayose administration.
Reacting to a report by the Economic and Financial Crimes Commission (EFCC), which indicted the Fayose government for allegedly diverting N680 million bailout fund, the CNPP described the alleged diversion as "callous and greedy".
A statement released yesterday in Ado-Ekiti, the state capital, by CNPP's Director of Publicity, Kunle Omotayo, said 16 political parties in the state met and regretted that pensioners and workers were owed several arrears after the state had received intervention funds from the Federal Government.
The statement said:
"For the first time in the history of Ekiti State, workers have turned petty thieves, stealing pots of soup and some stealing farm produce to stay alive, while several others have become beggars before they can make ends meet…"
[The Nation]