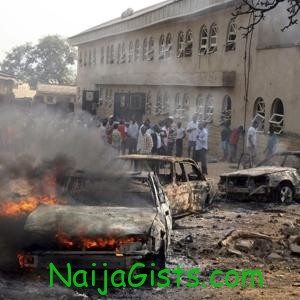 Dec 31, 2011 – December 25, 2011 : The Bloody Christmas of Body Bags
Having gone through the checks mounted by the church's security team, I was still trying to look for a convenient parking space when the deep voice of 'Expensive', the celebrated broadcaster on Wazobia FM, Abuja, boomed on the radio last Sunday. Somehow, the broadcaster's voice was shaky and that was quite unusual.
Even in his presentation of the Sunday devotional programme, 'Expensive' has never failed to add some panache and fun as he dissects issues of faith and spirituality. But that morning, all that was missing as he announced the tragedy that had just befallen Christian faithful at St. Theresa's Catholic Church in Madalla, a suburb in Niger State which shares a common border with the Federal Capital Territory. He said the forces of darkness had just detonated yet another bomb within the premises of the church during the Christmas early morning mass and that reports reaching the studio indicated that dead bodies littered the streets. For some moments, I was transfixed. Who, on this mother earth, would take pleasure in inflicting such tears, blood and sorrow in the comity of His faithful on Christmas Day? Did the Lord also create these demented souls? Does blood run in their veins?
For one, I knew that was the end of the day's church service. I barely managed to listen to the sermon of Rt. Rev. Duke Akamisoko of the Diocese of Kubwa Archdeaconry before dashing to Madalla, to cover the tragic event. Of course, I warned members of my family to remain indoors throughout. No picnic, no outing. It was one duty call that I had wished never happened. But, in this job, I have learnt how to put my emotions and sentiments aside. And so, I braved the odds with other journalists to meander our way through the various barricades, to witness the canvass of blood. Even the steel-hearted would grief over the mass murder of innocent worshippers who had simply filed out in a celebratory mood to thank God for sparing their lives to witness yet another Christmas, with the hope of starting afresh in 2012. They had looked forward to sharing meals with their families, going on picnics and trading banters on a day set aside to celebrate the birth of Christ.
Unknown to them, the forces of darkness had a different plan. The enemies, who came to steal, kill and destroy, had marked out that glorious day to attack the children of He who came into this world to give life and give it more abundantly. It was a devastation that could only have emanated from the darkest of hearts. I am yet to decipher how anyone with a shade of religiosity in him would have the presence of mind to carry out such hideous carnage. Surely, God did not send the Madalla suicide bomber, whatever his faith, on errand. He was not a religionist but a man of terror who had no place in His heavenly glories. He couldn't have been a Muslim because peace was far from his warped mind in unleashing that unprovoked attack.
By the time this thief in the night finished with his dastardly act, he took along with him the three valiant policemen who tried to stop him from ramming his explosive-laden 'clean Toyota Camry car' into the surging crowd of worshippers. Oncoming vehicles, both personal and commercial, their passengers and commercial motorcyclists were not spared. More than 40 adjoining buildings suffered the impact of the blast and blazing fire enveloped the scene. Dismembered  and bleached human parts littered different sections of the road as the anguished wail of sympathisers pierced the cacophonous umbrage from the protesting youth who were baying for reprisal. Wherever you looked, gloom was painted in scary colours. Men shook their heads. Women cried blood. Burnt bibles, rosaries and chaplets cluttered the ground. Rescue workers were overwhelmed with emotions as the body bags piled up. It was not surprising that the head of the rescue team announced that all the 25 body bags brought to the scene had been exhausted in one fell swoop. It was a bloody Christmas of body bags!
It was the day Paul Ehis, Joseph Igbla, Inspector Titus Eze; Sgt. Kadiri Danjuma; Chioma Obiukwu, Ifeoma Obiukwu; Uchechukwu Obiukwu, Chidinma Obiukwu, Francis Maduka, Jennifer Maduka and an unnamed one-year-old child breathed their last. The faceless suicide bomber also murdered several yet-to-be-identified Nigerians who had the ill-luck of being at the right place at the wrong time. They include passers-by and passengers in commercial buses and motorcycles plying the road on the ill-fated day. The Christian faithful could have been targeted for death, but hordes of Muslims also died in the blast. So, what could be the motive? With official figures of the dead currently put at 43 while scores of others are in various degrees of pain on hospital beds, no one is sure of the number of those that are yet to be accounted for as the search for the missing continues.
On that dark Sunday, many families were completely torn into shreds. Laughter disappeared from many homes. Joy was abridged. The supremacy of good triumphing over evil was put to question. There were also inspiring tales of hope and faith amidst the hollowness. There were stories of miraculous escapes and thanksgiving in spite of the grief. There was a reason to smile and hope for a better future when the forces of darkness would take a final lap of infamy. Who can understand the ways of the Lord? None.
But, in all of this, the agonizing story of Nancy Maduka stood out. The 13-year-old was lucky to be alive. By sheer providence, she bluntly refused to follow her parents to early morning mass at St. Theresa's Catholic Church, Madalla that day. She opted for some beauty routine at the hairdresser's. She was still there when the deafening sound of the blast jerked her into reality. With hope etched on her face, she rushed to the direction of the church to seek refuge under the loving care of her family members. That family re-union was never going to take place again. Nancy's parents and three elder sisters were the first casualties of the blast.
This is her story: "As I was about entering the church, and was making enquiry, I saw somebody lying on the ground, dead. I know my dad's car; everybody in the car was dead. The first person I identified was one of my sisters; she was dried up by the fire from the explosion. I saw my parents in the front seat, and they were all burnt in the car. I lost all; my parents, my sisters. I lost all. I was crying because I can see a bleak future ahead of me. Where do I go from where I am? I was not only confused; I initially felt all hope was lost. The only thing I recalled was that some people came and dragged me away from my father's burnt car."
A 13-year-old just became homeless, fatherless, motherless, orphaned and without any sibling in just one moment of sickening madness! How cruel can life be. Still, when journalists met her a day after the Christmas of body bags where five churches across some states in the North were targeted by arsonists, Nancy still holds on to her unshaken faith in the Almighty God. This sole survivor of a family of six took her loss with a mixture of philosophical equanimity and religious piety. Her words: "I don't know why this happened, but since this is the way the good Lord wants it, let it be. All I know is that all hope is not lost. I strongly believe this is not the end of the world for me. I know God has a plan for me to have spared my life."
What else would she cling to in this moment of tragic impulse if not hope and faith? At least she is wise enough to know the futility of holding on to man's promises. Many would promise to come to her aid but they would soon disappear into thin air with their fake promises. She must have read through the plasticity of those who offer platitudinous ranting each time the terrorist strikes. When they say terrorism is a burden we all have to live with for some time and that it will not last forever, are they asking the likes of Nancy to chew their pains in sombre acceptance of the fate that has befallen them? When they promise to apprehend the perpetrators each time the bombs maim and kill, do they expect Nancy to believe them? And would that bring back the laughter that was cruelly taken away from her life on that dark Sunday?
I had earlier confessed to putting emotions and sentiments aside in carrying the arduous task of reporting from the danger zone. Yet, I couldn't help but allow the teardrops to flow freely when I came in contact with Mrs. Chioma Dike, who lost her husband and five children in the blast. As she struggled to tell her story of how hell was visited on her family, the tears flowed freely. Obviously, she had no more to spare. But those that gathered at the church on Tuesday morning, when the Niger State Governor, Dr. Mu'azu Babangida Aliyu, visited the bomb scene, had plenty to release. She had thought all the members of her family would return from church to eat the sumptuous meals she had prepared to celebrate Christmas. They never did. All of them were burnt to ashes.
Now, Chioma is all alone without a husband or just one child to console her. At the point when would, ordinarily,  have been singing the redemptive song of Christ, she has been forced to sing songs of lamentation, moaning: "I have lost my husband and my children. I have lost all. My life is empty and void. I don't know where to go now. No husband and no child; where do I start my life? What is my future? Please, let the President and the Governor help me look for my family members. Somebody should tell me I am dreaming."
Pity, it is not a dream. If it were a dream, the teardrops would not be flowing as I write this. If it were a dream, many of us wouldn't be toying with the idea of staying at home to observe the New Year eve prayers at the family's altars. But that is the reality of the burden that those who govern us say we must have to live with until they wake from the drudgery of a do-nothing poise.
Welcome to our world – an incomprehensible puzzle made even worse by senseless terrorists and insensitive leadership! Oh, what a country!