Abuja News
Greedy Family Friend Of Dying Kidney Failure Patient Obtains N4million Donation Fraudulently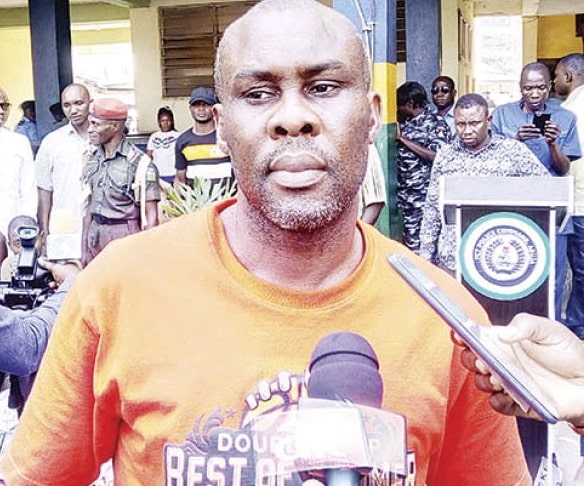 File photo
By Faith Yahaya
Family Friend Of Dying Kidney Failure Patient Arrested For Impersonating Him & Obtaining N4million Donation Fraudulently
Police in Abuja  have arrested one Goodluck Onyewenyi for impersonating a kidney ailment patient, Joshua Onyeke.

Onyewenyi was arrested after opening an account in the patient's name and sending out letters of assistance out to members of the public.

The suspect who made over N4million from the donations refused to give the money to the patient who is expected to undergo kidney transplant in India.

Items recovered from him include pictures of patients undergoing dialysis, copies of letters for financial assistance, bank documents.

Narrating how he was arrested, the Commissioner of Police in charge of FCT, CP Bala Ciroma said:

"On 14th January, 2019, following a complaint, Police detectives launched a discreet investigation that led to the arrest of one Goodluck Onyewenyi 'm' 40 years for fraudulently opening a bank account with the name of a patient suffering from kidney failure and in dire need of financial assistance to undergo kidney transplant.

"The suspect who happens to be a family friend to the patient took advantage of the relationship to write wealthy individuals, corporate organisations and highly placed government officials for financial assistance.

"The suspect has used a bank account he opened in the name of the patient to defraud unsuspecting members of the public. Preliminary investigation has revealed that the suspect uses names of patients identified to be suffering from kidney failure to solicit for financial assistance which he converts to his personal use."

Ciroma said investigation is on to determine the amount of money he collected from individuals, identify the individuals with a view to returning the funds to them and prosecute him.
Narrating his role, the suspect said:
"My name is Goodluck. Joshua is a kidney failure patient in Wuse General hospital. I met him when my brother had similar problem. We have been together for a very long time until we decided to open an account for financial assistance for kidney transplant in India. Later, I changed my name to his name, I swore an affidavit and also changed my name using newspaper publication. I went ahead to open an account with Zenith bank. I solicited for fund with his name

"I wrote to the public soliciting for assistance and I backed up the assistance letter with his medical record to prove that it was a genuine case. I made over N4million from those who rendered help after the letter was sent out."
On how he had access to Joshua Onyeke's medical record, the elder brother to the patient, Abraham said:
"This is a clear case of wickedness, greed and breach of trust. Joshua had an accident and was looking for assistance for kidney transplant in India. While we were going about the search for money, we ran into Goodluck who also brought a renal patient to Wuse General hospital claiming that the person was his elder brother but unfortunately, the person died in 2014. After that, he picked interest in Joshua and said he wanted to help. Along the line, I decided that we should write a letter soliciting for fund.

"I drafted the letter but because of the nature of my job, I gave it to him to help me post. In the process, he got Joshua's medical report, picture and other details. I gave him N20,000 to do the posting but instead of posting the letter, he took it home. He later changed his name through newspaper publication, went to the bank to open account, got an identity card and then he changed the details on the letter to include the new account he opened in Joshua's name. He sent over 200 copies of the letters out and donations started coming in into the account he opened and he got about N4million.

"We got the news from philanthropists who came to the hospital to know the true state of Joshua before making donations. It was during one of those visits that we checked the letter one of them held and we discovered that the account number was not the UBA account but Zenith bank. It was during investigation that we discovered that it was Goodluck. We begged him to transfer the money but he refused. The police stepped in and blocked his account through court order. He could not open withdrawal anymore.

"He went further to open an account at one of the UBA branches in Suleja and the donations continued going in. It was then that he was arrested. The painful thing is that Joshua is still suffering from kidney ailment and we need Nigerians to come to our aid."