African Celebrities News
Ghanaian Actress Nana Ama McBrown Biography & Net Worth: Touching Life Story & Family History Of Actress Adopted By Aunt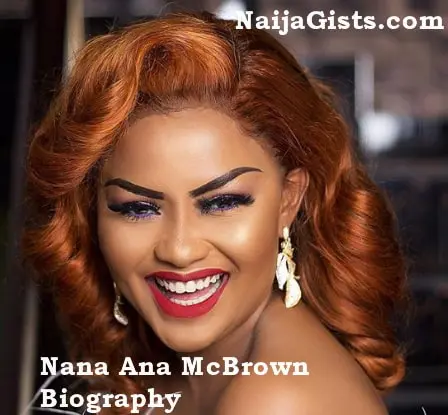 Biography Net Worth & Touching Life Story Of Ghanaian Actress Nana Ama McBrown Mensah, Ghanaian Ghallywood Actress Adopted By Her Aunt
Success is not restricted only to the privileged or high class, and you can make it as long as you have the will to succeed and is ready to work hard. This is a fact that beautiful Ghanaian Actress Nana Ama McBrown has proved to be true with her astonishing life story. The actress is one of the few Ghanaian females that have managed to beat the odds and write their names on the continental stage.
Despite having setbacks such as family crisis and educational problem as a little child, the beautiful actress has shown herself to be an opportunist. With a career starting as a worker behind the screen, Nana Ama McBrown managed to prove herself and has earned her place among the top stars in Ghana and Africa as a whole.
Nana Ama McBrown is one with an amazing personality. Not only is she a talented professional actress, but her vision of promoting the local Ghanaian movie industry and culture to the world have been characteristics that have kept her as a favorite among her fans over the years.
She is highly decorated especially on the national scene for her immense contribution to the entertainment industry. The beautiful actress has managed to stay above the negatives associated with her profession and is currently married to her longtime boyfriend. Although the relationship has received major criticism from the public, the actress seems to be having the time of her life.
Nana Ama McBrown is one in a million, she has put smiles on the faces of her fans over the years and most importantly has given her local fans a sense of entitlement, by always promoting the local culture and beauty. She is one amazing actress that will be remembered for decades to come.
Nana Ana McBrown Early Life
She was born on the 15th of August 1973 in Kumasi, one of the largest metropolitan cities in Ghana. Her childhood can be characterized as one with a lot of setbacks and difficulties, especially concerning her parents. Her parents, Kwabena Nkrumah who was her father and mother, Agyenim Boateng separated when the actress was born making her have to go through a lot of difficulties along with her siblings.
The beautiful actress had six other siblings and so her mother, Mrs. Agyenim Boateng was unable to raise them after the breakup, she then decided to offer them up for adoption to her aunt. A decision the actress claims she despises her biological mother for and believes she did not try enough. When the situation deteriorated more, and the family could no longer afford basic things, Nana Ama McBrown's aunt, Madam Betty Obiri Yeborah adopted her and her sisters and took full responsibility for their upbringing. A charitable act that the actress remains forever grateful to her for.
Madam Yetty Obiri Deborah with her husband, Mr. Kofi McBrown (now late) adopted Nana Ama McBrown and her siblings and raised them until they were able to fend for themselves. Although the conditions remained very tough as it was a large family, the actress considers her aunt as her mum for making efforts to provide for her in her little ways, and that has certainly paid off as today she is referred to as one of the biggest stars in Ghana and Africa as a whole.
A few years after adoption by her aunt, Nana Ama McBrown was enrolled in the St. Peter's Residential School where she had her basic education. Her subsequent educational pursuits involved going to several schools such as Minnesota International and Central International, all within the districts of Kumasi Ghana. After a brief stint changing schools the actress finally settled down at the Kwadaso L.A J.S.S but unfortunately for her she had to drop out at JSS 2 before she could sit for her Basic Education Certificate Examination (BECE).
The fact that she ended her education at such as young stage is something many of her fans find hard to believe as the actress speaks standard English and is well learned. The actress has claimed on various interviews that although her setbacks were always very painful and depressing, it never broke her. She was fond of looking forward to the next way out whenever her plans went up in flames. She took this time and used it to develop other aspects of her life, which turned out to be very successful.
Nana Ama McBrown Career, Awards & Net Worth
She can be defined as an opportunist because despite her struggling background and low educational qualifications she managed to seize the opportunity by the hand and is currently a household name with her works being recognized in other African countries and the world as a whole.
Her first professional encounter in the entertainment industry was as a costume designer, although this was not her initial plan. She had heard about auditions on the radio, by popular production company Miracle Films. She auditioned but was not picked for an onscreen role in the movie; she got to work as a costume designer. Nana Ama McBrown being a talented and strong-willed woman kept showing off her talents and managed to impress the director, Samuel Nyamekye.
The director noticed the talent in her and decided to give her the lead role in the movie, a decision that changed the actress life and set her up on the path of success. The movie which was her first and in which she played the lead role 'That Day' was a very successful one and it earned her a place in the spotlight, and subsequently leading to her getting more roles. She started rising among the ranks. One of her most prominent roles was that of popular TV series 'Tentacles' which further increased her fame and social status.
Nana Ama McBrown spent years steadily building her name and presence in the Ghanaian movie industry, Ghallywood since she had her debut in 'That Day' in 2001. She went on to feature in series and several movies, managing to charm colleagues as well as directors and producer in the process. She was steadily attaining the height of being one of Ghana's favorites but had her breakthrough in 2007 when she featured in a 'Twi' language movie, Asoreba.
Her role in Asoreba made her a household name in Ghana as Twi is the local dialects of several parts of Ghana with millions of her citizens actively speaking and communicating with it. She played her role with excellent skill and prowess and became a favorite in Ghana. Although her subsequent roles in movies using Twi language has limited has limited her audience compared to her counterparts that act roles using English, the actress claims she is not intimidated by anyone and is more interested in serving her fans and promoting the Ghanaian culture, another factor that has made her a darling to Ghanaians over the years.
Nana Ama McBrown managed to build her career from grass to grace and so is an inspiration to many Ghanaians and people all over the world. Another envious character in which she possesses is her will to promote the local culture, instead of just following her peers and seeking relevance on the international stage. All these combined with her good looks, mental prowess and superior acting skills have earned her a very successful career and a host of awards to show for it.
She has been a recipient of several local awards over the years for her immense contribution to the Ghanaian movie industry, Ghallywood but her most prominent one is when she received the title of 'Nkosuohemaa'. This title recognized her as the pioneer of development in Assin-Basiako, an area located in the Nothern part of Ghana. All this awards and recognitions complemented with her works and relevance in the Ghanian movie industry has earned her an estimated net worth of $0.35 million
Nana Ana McBrown Husband, Family Life And Relationships
She did not have the nice and friendly childhood environment and experience many of her colleagues were fortunate to have had because her parents separated a short while after her birth. She, therefore, considered her adopters who are her aunt, Madam Betty Obiri Yeborah and her aunt's husband Mr. Kofi McBrown her actual parents, and often gives glory to them for assisting her and her six other siblings, and raising them in the best way according to their strengths.
Away from the family drama, Nana Ama McBrown can be referred to as one of Ghana's most beautiful indigenous actresses and so has had her fair share of romantic relationships with many of the biggest stars in the entertainment industry. Particularly the music and movie industry.
She was once linked with fellow actor Omar Sheriff. Omar Sheriff can be defined as one of the A-list actors in the whole of Ghana having featured in several blockbuster movies, alongside the actress herself. He was also a cast on super-series Tinsel and so holds a strong significance in the Ghanian movie industry. Nana Ama McBrown and Omar Sheriff both came out to deny the allegations and claimed the relationship between them remained professional. Well, her fans would have to take her word for that.
Another of the beautiful actress relationship which was made public was that with popular Ghanian musician, Okyeame Kwame in 2004. Okyeame Kwame is a Ghanian rapper that releases most of his works in the local Twi dialect. The pair were seen touring and traveling together, having the time of their lives as well as seizing that opportunity to promote the singer's music. Some of Nana Ama McBrown's fans belive the relationship was a publicity stunt to boost the musician's career, but that certainly did not stop the beautiful actress from having a great time with her man. The couple eventually separated.
After a series of relationships, the actress finally announced her decision to settle down and get married to her boyfriend, Maxwell Mawu Mensah. They had been dating for a few years, and their relationship has been the one with many ups and downs which included a motor accident in 2013. Nonetheless, the couple finally got married in 2016.
The beautiful actress marriage to her man, Maxwell Mawu Mensah has been subject to many criticisms as many of her fans berated her for marrying a man almost a decade younger than her, as Maxwell is 36 years old while the actress is 45.
She has on various occasions come out to silence critics stating that her husband and his family have no problem with her age and they were aware of it from the onset. The marriage has also been subject to infidelity allegations and an extramarital pregnancy on the side of her husband but the couple has come out to deny this, and they seem to be enjoying the couple's life. This can be certified by their mouthwatering social media posts.
Nana Ana McBrown Latest News & Current Life
Now at the current age of 45, Nana Ama McBrown seems to be having the time of her life having built a very successful career over the years. Her marriage seems to be booming day by day despite the negative public reactions based on age difference and infidelity rumors.
Away from the personal life and romance, Nana Ama McBrown seems to be still a very active member of the movie industry and has featured in a many commercially successful movies of 2018 such as Women In Power and Trending Chicks. Her constant hard work and perseverance have been attributed to her harsh beginnings and ambition to revolutionize the local Ghanian movie industry and make it a world standard industry.
She has been a graceful representative of the local culture and remains as so as many of her movies are still being produced in the Twi language. Nana Ama McBrown has always been proud to share her stories over the years as it is a clear depiction that setbacks don't necessarily stop you from achieving your dreams, as she is fond of saying.
An epitome of talent and hard work, Nana Ama McBrown has remained a favorite to Ghanaians over the years and never fails to impress. The actress has more to offer in her stock and is a blessing to Ghallywood and Ghana as a whole.
---
Copyright © NaijaGists.com. All rights reserved.

This material may not be reproduced, published, broadcast, rewritten or redistributed in whole or in part without prior express written permission from NaijaGists.com.