African Celebrities News
Top 10 Best Dressed Nigerian Male Celebrities 2018: Meet The Most Fashionable Male Entertainers In Nigeria
Top 10 Best Dressed Nigerian Male Celebrities Of 2018: Meet The  Most Fashionable Male Entertainers In Nigeria
Rich, presentable, stylish and fashionable: Four words which perfectly define Nigerian male entertainers. While there exist great differences, in terms of wealth, between these individuals, they have one thing in common; an enviable fashion sense. In this article, we are going to be looking at the top ten best dressed male entertainers in Nigeria.
10) RMD
Speaking of classy men in the Nigerian entertainment industry, Richard Mofe-Damijo is, without doubt, their patron. The 57-year old popular Nigerian actor, who is a former Commissioner in Delta State, is renown for his classic fashion style, which is often accompanied by a well trimmed kinky grey beards.
The handsome sweet-sixty actor has a well trimmed body figure, which fits into any type of clothes, ranging from cut-size suits to traditional attires. Anytime he steps out, he is always the cynosure of all eyes. At barely three years to sixty, he deserves some accolades for maintaining such a trim figure.
9) Adekunle Gold
If there is an award for promoters of "Made in Nigeria" wears, Adekunle Gold would be a front runner to win the award. He is known for his unique (some call it weird) style of fashion. Reports have it that, Adekunle Gold was actively into fashion designing before making his way to the forefront of the Nigerian music scene.
The urban high-life singer/fashion designer, whose real name is Adekunle Kosoko, is renown for creating unique styles of clothes from local materials, basically Ankara and Kampala. His fashion style has inspired many across the globe, male and female alike (including celebrities), to see the beauty of African tradition.
8) Banky W
Bankole Wellington, popularly called Banky W, sure has one of the best stylists in Nigeria. He practically lived much of his youthful life in the United States, hence, his love for cut-size suits is not surprising. He was renown for always donning a hat, until recently when he stopped. He has since gone on to spot his skin-cut head and believe me, it is dope!.
Of recent, Banky W has gone more traditional. His marriage to Adesua Etomi has, without doubt, influenced his dress sense. He now appears regularly in fitting traditional attires, with near-perfect colour combination. Banky W is also known for his trademark beards, which is in stark contrast to his regular skin-head style.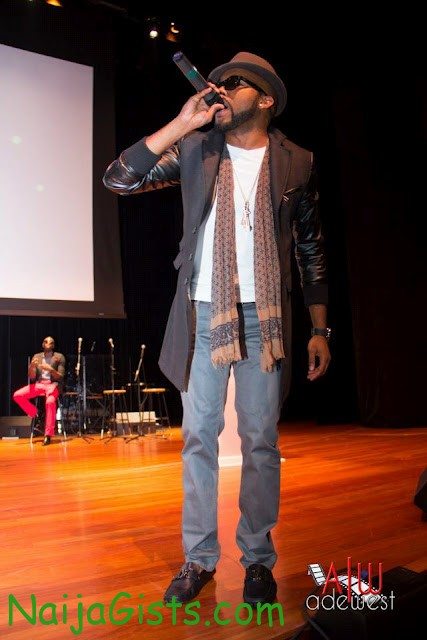 Banky W's wedding, BAAD 2017, which held late last year could well pass for men's fashion event. Top Nigerian male celebs were on their best fashion style on the "Agbada day" (Traditional Wedding) and the "corporate day" (White Wedding).
7) Falz the Bahd Guy
Well, it gets better! To many people, Falz has a very weird fashion sense. To others, his fashion style is not weird but unique. Just like his music, which is often a medium for addressing societal ills, Falz's fashion style also says a lot about his personality.
The singer/actor, whose real name is Folarin Falana is a trained lawyer, which explains his ever present facial glasses. He often dons cut-size suits, matched with a jumpy trouser; weird right? I say unique! Also, Falz's beards provides him with a "classic man" appearance. He's the chairman of a so-called Sweetboiz gang.
6) Uti Nwachukwu
Uti Nwachukwu is a popular Nigerian actor renown for his glossy but classic fashion style. His trademark dreads is top notch and he's also a well known lover of cut-size suits.
Uti's good looks and classic touch of fashion stand him out among his peers in Nollywood. He steps out with class and confidence, worthy of a man of his status.
5) Ice Prince
While Ice Prince has lost his place at the top of the Nigerian "rap" music arena, he hasn't lost his place in the fashion arena. Ice Prince, whose real name is Panshak Zamani, is so full of swag. He makes fashion looks like a cake walk.
The interesting thing is, Ice Prince was born and brought up in the northern Nigerian city of Jos, whose local inhabitants are relatively unexposed, with respect to contemporary fashion style.
Ice Prince's swagged up dressing style is aptly augmented by his trademark goatie beards. He wears classic wristwatches, shirts, pants and more significantly, shoes.
4) D'Banj
Had it been D'banj has not settled for a career in music, he could very well have been a highly successful model. D'Banj's trim body makes him fit into virtually all styles of clothes, ranging from traditional attires to corporate wears. He matches his clothes with classic shoes and wristwatches.
Apart from being one of the most successful music artistes in Nigeria today, D'Banj is comfortably one of the most fashionable celebrities in the country.
3) Peter Okoye (P'Square)
Just like D'Banj, Peter Okoye could also be easily mistaken for a model. Peter, who is fondly called Mr.P, has shown immense discipline in maintaining his toned figure. In the past few years, he has worked tirelessly to develop an enviable masculine figure. He is, today, many ladies dream man. Unfortunately for the ladies, he's married.
Peter Okoye is not known to dress crazily or for adorning unnecessary blings. He effortlessly slays in his simple appearances; low cut hair, well trimmed beards and his simple but classic wears. His appearance in suits, as well as in traditional attires exude class and confidence.
2) Timaya
Meet the Egberi papa 1 of Bayelsa! Timaya is one of the best dressed male entertainers in Nigeria. He knows which-shirt-to-wear, which-shoe-to-wear, which-wristwatch-to-wear and more importantly, how to combine all these to give him a perfect "classic man" appearance. Timaya's stylist is one hell of a stylist; he's very good.
Timaya's trademark "heavy" beards is one of a kind. The beards often stands him out from the crowd and gives him an elegance presence.
1) Ebuka
Save the best for the last right? You got it! Ebuka is the lord of male fashionistas in Nigeria today. We can say his fashion designer, Ugo Monye, is the secret behind his fame. Ebuka became a fashion sensation with his classic Agbada appearance at BAAD 2017 (Banky & Adesua Wedding). His fashion style to BAAD 2017 actually trended more than the wedding itself.
The TV host/personality and actor has gone on to become one of the most recognizable faces in the entertainment industry, simply as a result of his classic fashion style. His tall and toned figure make it easy for him to fit in perfectly into most styles of cloth; both traditional attires and corporate wears.