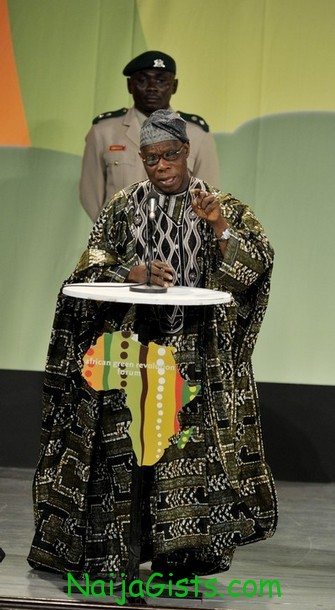 Dec 14, 2011 – Governor Oshiomole Insults Olusegun Obasanjo
Adams Oshiomole, the governor of Edo State, has described former President Olusegun Obasanjo as a selfish and partisan leader who believes in his party alone, regardless of the decision of the people on quality leadership. naijagists.com
Oshiomole, who made the disclosure on Tuesday in Abuja during the launch of a book, 'Power, Politics and Death', written by the late president Yar'Adua's spokesperson, Olusegun Adeniyi, said Yar'Adua's attributes contrasted with Obasanjo's.
He said when the NDDC was made a government agency, Yar'Adua selected him, regardless of his party affiliation, to nominate members of the agency against Obasanjo's advice.
"Obasanjo insisted that why should he nominate an opposition party governor to do the job?" Oshiomole recalled.
"We have had a president who felt that if you don't belong to his party, you must not exist. We had a president, not too long ago, who believed in do-or-die notion and who believed his party would rule for 50 years. But Yar'Adua was a different person."
The Governor disclosed that Yar'Adua gave him financial support to fight his legal battles when he was denied victory in the governorship election.
According to Oshiomole, "He would say, 'every governor, regardless of the party, has the privilege to share with me how to keep Nigeria going'. He insisted he was president of Nigeria not a party. For him, party membership was a non issue and that, I respect him for. For me, Yar'Adua was a great man and it is a pity that his poor health denied Nigerians of his great leadership qualities."
He added that the late president never denied him access into the Aso Rock Villa while in office.
"Yar'Adua was one of the finest leaders Nigeria has ever had. Yar'Adua is the only Nigerian president who passed through a process and said this process which produced me could have been rather better than this; that Nigerians could have been the ones who produced him.
"That was why he set up the Uwais Panel on electoral reform because the election that produced him during Obasanjo's tenure was fraudulent."
Oshiomole however said that it was disheartening the way the issue of his sickness was treated.
"Because Nigerians have the right to know what happened behind the scene. It was clear that Jonathan needed to act in the absence of Yar'Adua because Yar'Adua would not have wished that Nigeria should die with him. But we know the godfathers who told their senators not to support the doctrine of necessity because they felt that if Yar'Adua recovered, it would be a problem for them. So, I think Segun has done well by sharing some parts to us," he said.
"The lesson from all this," he pointed out, "is that no matter what we do, leaders will come and go but the country will remain and that where there is a conflict, this should be resolved in favour of Nigeria because we ought to understand the mystery at the Aso Rock and how Nigeria was governed at night."
Corroborating Oshiomole's statements, Governor Kayode Fayemi of Ekiti State affirmed that all that his counterpart said about the late president was true.
"Yar'Adua was in love with Nigeria. The management of information about his sickness was what Nigerians did not like about Yar'Adua administration. The people felt that the nation was denied of that right. So, let us learn from this lesson on how to manage information about dignitaries that we manage," he said.
While speaking, the writer of the book, Adeniyi described the late president as a detribalised leader who appointed him as his spokesman despite various criticisms (daily times).