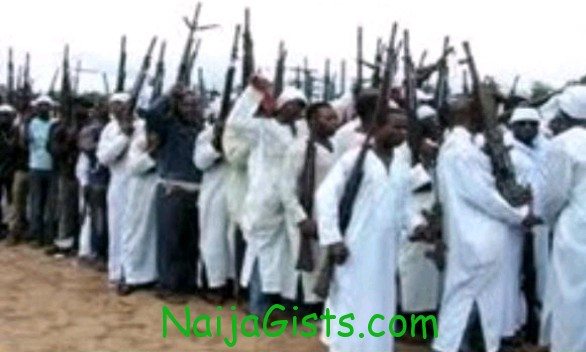 Hired Jihadists
June 10, 2012 – Islamization Of Nigeria: A Mission Impossible
After several ceaseless attacks on Churches and Christians in Nigeria today, it's obvious the Boko Haram Islamic sect as well as their sponsors have one agenda and it's to Islamize Nigeria.
Nigeria as a country today was founded on the principle of the Holy scriptures.
There is no man from the pit of hell capable of turning this nation into an Islamic country.
httpv://www.youtube.com/watch?v=kAkzqztvuaw
httpv://www.youtube.com/watch?v=SqKFAWa06AU
General Ibrahim Babangida, the silent sponsor of Boko Haram in Nigeria which others have claimed is untouchable will soon see the hand of God.
The churches have been the favorite haunt of this evil sect that craves the Islamization of Nigeria, a mission which is impossible.
Boko Haramists, Founders Have Murdered The Innocents
Boko Haram as a well as their founders have caused more bloodshed in the history of Nigeria.
They have murdered innocent mothers, fathers, children and unborn babies.
The time of vengeance has come upon them.
Behold vengeance is mine says the Lord.
God told me to tell you Boko Haram, from now on, you will know no peace
Boko Haram Is Cursed
Boko Haram will know no peace from their father to their yet unborn children
You will be cursed in the city and cursed in the country
Your basket and your kneading trough will be cursed
You will be cursed when you come in and cursed when you go out.
Wherever you go and whatever you do, you will be cursed.
Jehovah will send upon them cursing, discomfiture, and rebuke, in all that thou puttest thy hand unto to do, until thou be destroyed, and until thou perish quickly; because of the evil of thy doings
The LORD will plague you with diseases until he has destroyed you from the land
The LORD will strike you with wasting disease, with fever and inflammation, with scorching heat and drought, with blight and mildew, which will plague you until you perish
The LORD will afflict you with the boils of Egypt and with tumors, festering sores and the itch, from which you cannot be cured
Message From God To Grieving Nigerians
The LORD will grant that the enemies who rise up against you will be defeated before you. They will come at you from one direction but flee from you in seven
The LORD will send a blessing on your barns and on everything you put your hand to. The LORD your God will bless you in the land he is giving you
The Lord will restore unto you the years your enemy has taken away from you
He will console you and give you peace that your soul desires
Nigerians Are Not Terrorists
Nigerians are not terrorists. We are people of culture.
Terrorism / suicide bombing started in the 1990's when General Ibrahim Babangida hired Jihadists to bomb Christians Schools in Sokoto.
As a committed Christian with muslim mother, I have muslim friends so don't tell me they're terrorists.
Nigerians have lived together in harmony until when Ibrahim Babangida hired foreign Jihadists to turn Nigeria into an Islamic nation.
Do you remember IBB ganged together with Abiola to turn several million of Holy Bibles into the ocean few years back? Is God asleep?
Why was Abiola arrested? Why was his presidential ambition foiled? (Judgement of God I guess)
Ibrahim Babangida was recently sick and  rushed to abroad for emergency treatment? Judgement is looming………
Vengeance Has Been Proclaimed On Boko Haram
Watch it guys, you will hear terrible things in the camp of Boko Haram and their founders soon.
I still believe these Jihadists were hired to operate in Nigeria.
According to reports from reliable sources, most of these Jihadists were hired from the Niger Republic to fulfill this Islamization agenda in Nigeria.
Peace be unto you.
Article submitted by Ololade S. (ololadeseyimi@gmail.com).
---
Please send your articles to info@naijagists.com.