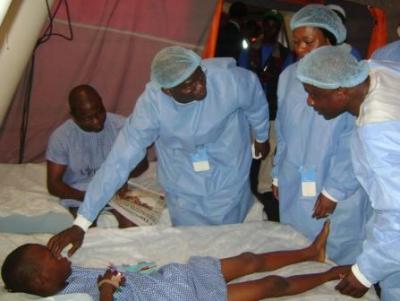 Nov 13, 2011 – Lagos To Offer Free Health Screening From Nov 14-18
Lagos State Government has appealed to residents in the state to come out en masse for the 8th round of the state-wide free screening exercise for hypertension and diabetes.
The screening exercise has been slated to hold from November 14 to 18, 2011, in all the 20 Local Government Areas and the 37 Local Council Development Areas in the state.
The exercise is also scheduled to take place in three major clubs in the state; the Lafiaji development club, the Ikeja Country club and the Public Service Club, Ikorodu.
Dr. Yewande Adeshina, the Special Adviser on Public Health, while addressing journalists on Friday, said the State Ministry of Health was targeting 100,000 residents in this round of the screening exercise.
"Diabetics and hypertension constitute a major component of what is generally referred to as Non-Communicable Diseases (NCDs) and NCDs are the leading cause of functionary impairment and death worldwide. These diseases are, by far, the leading causes of mortality in the world, representing 60% of  all deaths. By 2020, it is predicted that  non-communicable diseases will be causing 7 out of every 10 deaths in developing countries," she said.
Adeshina added that the Lagos State government  is committed to eradicating all forms of diseases in the state and urged residents to take advantage of the screening centres in their localities, so as to prevent terminal diseases.
Other similar health programmes being implemented in the state include breast, prostate and cervical cancer screenings.
The hypertension and diabetic screening exercise, which started in July 2007, has   so far screened 600,000 people.
In 2010 80,000 people were screened.
The  screening exercise is scheduled to hold at the LGAs and LCDAs from 8.00a.m-5.00p.m. everyday.