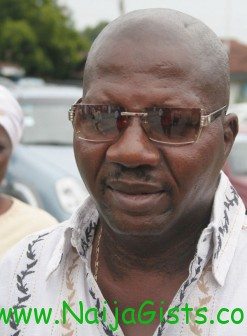 Nov 18, 2011 – My Cocaine Story – Babatunde Omidina aka Baba Suwe
How I spent 500, 000 Naira For Self-Upkeep in NDLEA Custody detention 
Popular Nigerian / Yoruba Comedian Babatunde Ayinde Omidina, also known as Baba Suwe on Friday, 4th of November as he regained his freedom after spending more than three weeks in the custody of the National Drug Enforcement Agency (NDLEA} after he was held by the operatives of the body over drug related offences. After Baba Suwe has execrated several times without any trace of drugs, he was said to have been taken to an hospital in other to be very sure but the result was still the same as Baba Suwe excreted over and over again without any suspicious substance in his excreta.
This baffled not only members of the public but the NDLEA officials as well as this magazine reliably learnt that although the scanner which detected the suspicious substances in Baba Suwe indicates drugs, the drug in him refused to come out through excreta. As a result, a lot of people went to town with the tale that Baba Suwe has done something diabolical and as such he is impregnable. These people continued that although the scanner will continue to see the substances but because of Baba Suwe's diabolical power, he will never excrete the substance unless he is willing to. naijagists.com
The interesting story which has generated a lot of controversies however took another twist on Tuesday, 1st of November 2011 when a lagos high court sitting in Ikeja and presided over by Justice Yetunde Idowu said that if on Friday, 4th November Baba Suwe doesn't excrete drugs, then he must be set free by the anti narcotics agency  because on the day he was taken to court he has excreted more than 15 times. When he was taken back to court on Friday, 4th November, the presiding judge had no choice than to just allow him to go because that day Baba Suwe made some startling revelations in the court.
He told the court that he has spent half a million naira on his feeding alone and he has excreted more than 18 times in 24 days without any trace of drugs. With these and other revelations and with no other evidence to prove that Baba Suwe actually ingested drugs in a bid to take it to another country he was left off the hook. Baba Suwe who was very elated was received warmly by his friends and family members. naijagists.com
Baba Suwe was arrested in the night of Wednesday 12th October, 2011 at the Murtala Muhammed International Airport, Ikeja Lagos while attempting to travel to France by the operatives of the National Drug Law Enforcement Agency(NDLEA} due to drug trafficking.
The eagle eye of the anti drug agency operatives spotted the comedian who was actually on his way to France to be the master of ceremony for an event organized by a member of staff of Air France, the same airline he boarded. An irrational movement by Baba Suwe led to his arrest and his passport confiscated. He as well as the Air France staff whose child's naming ceremony he is billed to act as the master of ceremony was also arrested.(by Dotun Olanibi)