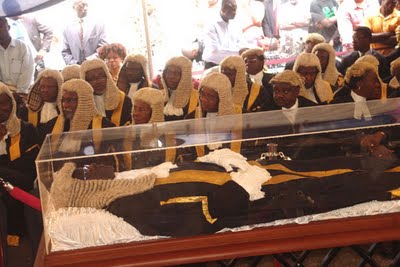 Nov 11, 2011 – Nigeria May Disintegrate By 2015 Says The Nigerian Bar Association
Nigerian Bar Association (NBA) Ikorodu branch has warned that Nigeria may disintegrate by 2015 if the current structure of the country is not immediately corrected.
The NBA branch gave this warning at a press conference in Ikeja to announce the commencement of the branch law week.
Chairman of the Branch, Mr.  Kazeem Adebanjo while announcing activities lined up for the law week, condemned the present structure of the polity, describing it as lopsided and called for a change which will ensure that things are done correctly to prevent the disintegration of the country by 2015.
He said: "If the problems of this country are not addressed quickly, I can tell you that this country may disintegrate by 2015."
Mr. Adebanjo however added that the law week annual Chief B.O. Benson lecture tagged 'Rule of Law: The Foundation Is Shaking' scheduled for 16 November, 2011 at the Ikorodu Town Hall, will be used to address the issue before it is too late.
The guest lecturer at the event is Prof. Yemi Osibajo, former Attorney General and Commissioner for Justice in Lagos state under the Chairmanship of Hon. Justice Umar Farouk Abdullahi, the former president of the court of appeal.
Other discussants are Dr. Saheed Timilehin, Taiwo O. Taiwo and Ikeja NBA chairman, Adegbamigbe Omole, while dignitaries that are expected include HRM Oba S.A.A. Oyefusi, Dr Opral Benson, Senator Gbenga Ashafa, Chief Hairat Balogun, Mr. Ade Ipaye, the Attorney General and Commissioner for Justice in Lagos and Dr Muiz Banire.
Other activities lined up for the law week include a free health services for lawyers and court staff at the Ikorodu local government Secretariat on Friday by 10.00 am and a jumat service  at the Oriwu Central Mosque.
On Saturday, 12 November, there will be a visit to the monarch in Ikorodu for royal blessings and a variety night where lawyers will mingle with their families and friends.
Monday, 14 November is the day of charity when members will visit the motherless babies' homes and rehabilitation centres while a thanksgiving service will be held on Sunday.
Fixed for Tuesday, 15 November, is a motivational Talk/ Career talk for students at the local government secretariat as well as the commissioning of Zebra crossings at designated locations within Ikorodu.
The law week will end on Friday, November 18 with a MCLE empowerment seminar with the theme, 'Affidavit Evidence: Uses, Strength and Shortcomings' with Justice K.O Alogba as resource person and an annual dinner and award night where the Governor of Osun state, Engr. Rauf Aregbesola will be given the Excellence in Leadership award.
The Award night will be chaired by Mr Fola Arthur Worrey with the Lagos state Solicitor General, Mr. Lawal Pedro and the Lagos state Attorney General, Mr Ade Ipaye as special guests of honour.
By Henry Ojelu & Helen Omotayo