By Adedayo Odulaja
Nigerian Entertainment Industry Biggest Scandals Of 2018
Wizkid and Tiwa Savage dating rumours
Wizkid remains at the centre of another controversy after sparking up rumours of a romantic relationship with Mavin's first lady, Tiwa Savage. The rumours started trailing the two talented singers after featuring together on a song, "Malo" a few years ago.
Despite the 11 year-gap between Wizkid and Tiwa Savage, the speculation was reignited afresh this year after they appeared in a few shows and suggestive pictures together. With the release of the steamy video, "Fever" in October in which Tiwa is seen almost kissing Wizkid in many scenes while playing the role of a vixen, the rumour mill went into overdrive.

It must be said that some Nigerians, especially millions on Twitter, took the video as a confirmation of the long-standing relationship rumours between Tiwa Savage and Wizkid.
And while a post by the mother of one: "Your relationship does not need to make sense to anyone except you and your partner. It's a relationship, not a community project" is believed to be a denial of sorts, many say it could as well be a confirmation of a relationship with the Starboy who has three children of their own.
Small Doctor's arrest and arraignment
Earlier this month, musician, Small Doctor, landed in trouble with the police and was quickly arraigned over unlawful possession of firearms despite being a police ambassador like Korede Bello.
Officials at the State Criminal Investigation and Intelligence Department in Yaba, Lagos, said the music star was arraigned at the Ebute Metta Magistrate court along with the other occupants in his car on Tuesday December 4, 2018.

Earlier, the "Penalty" singer had been paraded with his gang by the Lagos State Police Command on Monday, December 3, 2018 after he was arrested for allegedly threatening a police officer with a gun.
The police on said in Lagos they had arrested a popular musician, Adekunle Temitope, a.k.a Small Doctor, and three others for alleged unlawful possession of fireman, with the Commissioner of Police in Lagos State, CP Imohimin Edgal, telling newsmen that the suspects were arrested after threatening to shoot policemen controlling the traffic at the ever-busy Oshodi area of Lagos.
Edgal said that he was disappointed with the musician's conduct because he had a case with the State CID, Panti, for shooting a gun at his Agege show where he injured four persons.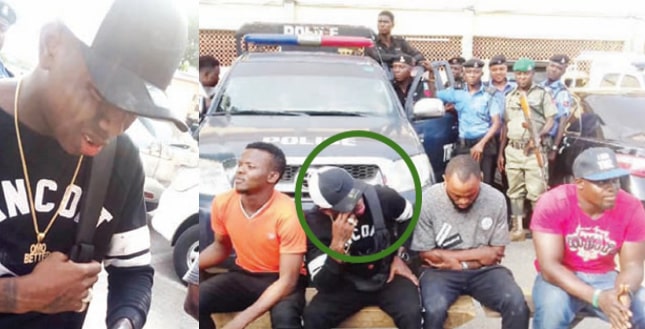 "You would have thought the incident would caution him but surprisingly today, I got a situation report from traffic monitors at the Oshodi expressway about four unknown gunmen in green unregistered SUV. He (Small Doctor) allegedly brought out a weapon and threatened to fire the policemen. Fortunately, the DPO and other policemen at Shogunle intercepted the suspects and arrested them," Imohimin added.
The matter embarrassed the musician bred in Agege to no end.
Linda Ikeji's pregnancy scandal
When the engagement of Linda Ikeji, was announced in March by her sisters, many of her readers and fans were falling over themselves to congratulate her even if nothing was revealed about the man in question. Then on May 20, Linda Ikeji revealed her 6-month old baby bump along with a lengthy post which provided a chronicle of her pregnancy journey and the excitement that engulfed her household when she found out she was pregnant, mixed reactions trailed it altogether.

As fans congratulated her, the controversial Kemi Olunloyo reacted by accusing Linda of wearing a prosthetic bump and saying Ikeji was neither engaged nor pregnant. In a post directly addressing Kemi Olunoyo's claims, Miss Ikeji queried why someone she helped while in prison could utter such false claims about her pregnancy, noting that she would have openly adopted a child if she was unable to conceive, contrary to reports.
The pregnancy saga was so heavy online that it drew several reactions from Nigerians on social media including the likes of Freeze, Don Jazzy, Tonto Dikeh but unknown to Nigerians, that was the first part of it all. Just about two weeks ago, the blogger released another epistle on her son and the pregnancy preceding him, revealing the full identity of the father of her son while also making it known her relationship with the man is broken irretrievably.
It was the biggest of all in terms of the reach and how much it dominated trends across social media platforms. So heavy was the matter and the millions of reactions accompanying it that only the debate organised for Vice Presidential candidates in the 2019 general election spice by Professor Yemi Osinbajo and former Anambra State governor, Peter Obi and aired by Channels could displace it eventually.
Wizkid and baby mamas Drama
The drama surrounding Nigerian music superstar, Wizkid, and two of his three baby mamas has become a regular staple of the gale of gossip about the Nigerian entertainment scene in at least the last two years. With allegations that the "Fever" singer is a deadbeat father constantly being thrown about by Shola Ogudu, his first baby mama as well as the next in line, Binta Diallo, the singer has been at the centre of various outbursts.
And not even the fact that the Starboy Entertainment boss has refused to dwell on the issue publicly, resorting to subliminal messages on social media and pictures have helped the matter much.
As far as 2018 is concerned, it all began again in May 2018 when Miss Ogudu celebrated the 7th birthday of the son she birthed for Wizkid in 2011, Boluwatife. In the process of celebrating the boy's birthday, the scorned woman directed a number of shades to her baby daddy, accusing her, above all else, of having left her with raising the boy alone as the father and mother.
Beyond whatever his first baby mama had done in the past, Wizkid would have been really pained that in speaking out this time, Miss Ogudu went as far as giving kudos to Wizkid's fellow popstar and rival-turned-friend, Davido, for, according to her, being a great father to his children as a subtle way of bashing Wizkid further.
If we thought that was all coming our way from the line-up of Wizkid's baby mamas, we were proved wrong when his second baby mama, Binta Diallo, jumped into the fray early September. Miss Diallo, who was more specific in her own attack, accused the singer of refusing to pay the sum of $18,000 in child support as ordered by American courts for the upkeep of their 2-year old son, Ayo Jnr who lives with her in the United States.
According to her, lawyers acting on behalf of herself and Wizkid agreed that he should pay a monthly child support of $2,000 which Wizkid has refused to pay until the time.
As if waiting for something to trigger her once more, Shola Ogudu roared back into focus by releasing a 25-page chronicle of her tortuous journey with the "Come Closer" singer who then revealed that Wizkid has always been absent whenever their son has celebrated his birthday for the past seven years.
Going further, she also release WhatsApp messages showing the gradual deterioration of her relationship with Wizkid only writing that there are two sides to every story among a number of cryptic messages while he also got a lot of support from Jada Pollock, his third baby mama. As is usual with any such story, however, the matter was trending for days.
Mercy Aigbe's red dress drama
Easily one of the most talked-about celebrities in Nigeria, Nollywood actress, Mercy Aigbe, is constantly in the news over one issue or the other. Hardly does a month pass without the actress making the headlines. So when she announced her intention to celebrate her birthday on the first day of January 2018, many knew it could hardly hold without some drama especially with all the issue that attended her marriage to Lanre Gentry months before.
And as envisaged, moments after Mercy Aigbe released photos from her birthday shoot, a certain lady who was having an important function at the time called out the controversial actress and producer for allegedly wearing a red dress belonging to her for the photo shoot.
The issue, through started small, soon grew into a big deal, with both the lady, Mercy herself and the fashion designer contracted to make the dress going back and forth on social media. On the sidelines, fans of the actress joined the fray while many others who managed to stay neutral pushed for the truth so as to know who the owner of the red dress was really.
Embarrassed, Mercy Aigbe first thought it was a joke before she subtly addressed the matter by threatening to take legal actions against the designer and in truth, it was a lot for her to handle that early in the year.
Davido's private jet controversy
One of the biggest stories on Nigerian social media platforms back in May had to do with Nigerian music superstar, Davido, announcing the acquisition of a private jet. Via his official Twitter handle, Davido made the claim which many blogs started reporting without most even deeming it fit to see any evidence or question the claim.
Well, with his standing as one of Africa's richest musicians and with the vastly deep pockets of his father, not many doubted that Davido could afford a private jet; all they wanted was to see any kind of evidence.
When, about two months after Davido elaborately planted the gist on his Instastory for all who cared to see, nothing was forthcoming, even some of his fans started doubting the self-styled Omo Baba Olowo (OBO) claim.
Finally, on August 18, Davido changed the tone after the emergence and circulation of a video showing Davido's father, Chief Deji Adeleke, alongside other people praying beside the private jet right before it took off. Accompanied by Chioma, Davido took his first flight with the private jet to Cotonu where he reportedly had a show, days after the luxury plane arrived and he rudely reacted, claiming whatever belongs to him also belongs to his daughter, Imade, same way he can lay claim to his father's property and branding those asking as "haters".