Bayelsa State News
Former Bayelsa Commissioner Calls Police To Arrest Brother Begging Him For Help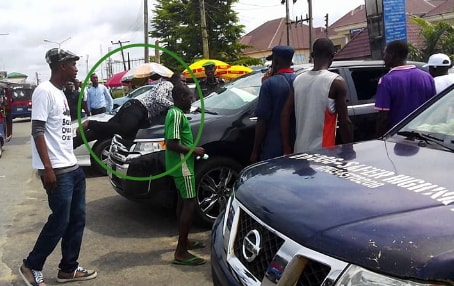 Drama As Nigerian Politician Snubs Poor Brother, Calls Police To Arrest Him In Bayelsa State
An emotional scene played out today in Bayelsa state after ex-Commissioner for Environment called police to arrest his poor brother during the World Environment Day Celebration at the Gabriel Okara Cultural Center.
According to an eyewitness, a young man who claimed to have made several futile attempts to reach his brother for assistance cried out for help over unbearable hardship.
He however cornered the ex-commissioner today and jumped on his vehicle.
He ignored all his pleas to get off the vehicle, insisting that his brother must help him or kill him today.
At the height of the drama, the ex-commissioner reached out for his phone and called police to arrest him.
He was later seen leaving the Cultural Center at top speed as police handcuffed his poor brother.
Double wahala for dead body… which kind life be this self..
If a man can't help his family members, who else will? what happened to his conscience???.