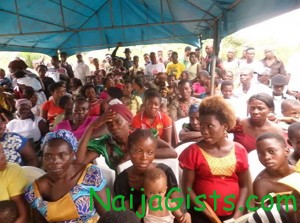 October 14, 2017 – Outrage As Armed Robbers Attack IDPs Camp In Bakassi Cross Rivers State
Some youths suspected to be hoodlums and miscreants have taken over the Internally Displaced Persons' (IDPs) camp in Bakassi local government area of Cross River State. The camp located at Ekpri Obutong in the area was constructed by the State government for the IDPs who left Cameroon to Nigeria as a result of the ceding of Bakassi.
We observes that most of the apartments mostly self-contain and one bedroom flats were deserted as occupants either moved to Ikang or Calabar for fear of being attacked by the hoodlums. One of the occupants at Block A.5 in Obutong Estate, Mrs Grace Okokon said they were making arrangements to also leave the estate. She said that a corps member living close to her and others were raped and robbed two nights ago.
"We no longer feel safe. Police is trying but this estate is too big, and these bad boys have big guns, sometime they come in the day time, because we are surrounded by forest, they just run into the place and rob us.
"We can't sleep at night anymore, sometimes they break into our houses when we go to Ekpri Ikang or Ikang Market ,they target us on those market days. I have lost my sewing machine and my husband lost his motorcycle too in the same day, we are fed up, we just want to leave this God forsaken place," she stated.
Also speaking at his Ekpri Obutong Palace, His Royal Highness (HRH), Chief Ekpo Asuquo regretted that they allowed government to build the estate as it has turned out to be subject of woes instead of succour. We regret allowing government to build that estate, we regret every inch of that decision. I wish, we could rescind that decision or turn back the hands of time."
"We live in fear, we live like rats in a hole, we live in bondage, my people are no longer free, we are attacked almost every day, our women and children are raped, there is rise in crime and we don't know what to do anymore," he said.
According to the village head, they have written severally to government and security agencies but the problem has worsened by the day. "If it were possible for us to demolish the estate for us to have peace and tranquility, we would have done so.
"We accepted the construction of the estate so that we can accommodate our brother who were chased away by Cameroon but today, our kind gesture has turned into a curse"
"We want to use this opportunity to appeal to the governor, Prof Ben Ayade to help us here by allowing either soldier or police to take over or put burglaries in the house and also chase out those nefarious elements who have taken over the place"
The monarch said: "We have set up vigilante several times but because these boys are well armed, most time, they fire at us, sometimes they even kill us, because what we have are machetes but they have guns, we need help before it's too late. 99 percent of them are not indigenes, we don't know their fathers, we don't know where they are from."
[NAN]