Abuja News
Premature Triplets Abandoned By Father As Mother Dies After Birth In Abuja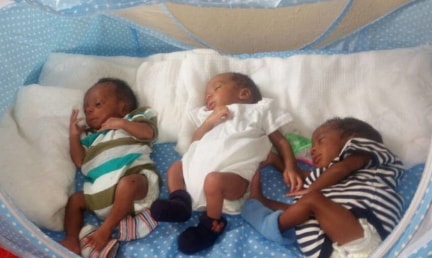 Mother Bleeds To Death After Giving Birth To Triplets In Abuja Hospital As Jobless Husband Flees
By Premium Times
A new set of triplets have been left stranded after their mum died shortly after their birth in an Abuja hospital, with their unemployed father dumping the family. Distant relatives and friends are now struggling to give some attention to the three boys and their older siblings — a boy and a girl — and are calling for help from the government and Nigerians.

Before her death, Nkechi Okonya, 32, was the family's bread-winner, raising her two children and supporting her husband from the proceeds of her petty trade, neighbours said.

Jersey and Kimberly — seven and five years old — have now dropped out of school with no one to take care of their education.

Their father was last seen shortly after the unlucky mum gave birth at Bwari General Hospital. She bled to death shortly afterwards leaving behind the five children.

Mrs Okonya was due for delivery on April 20 and was rushed to a Primary Health Centre in Bwari, a suburb of Abuja.

She was delivered of one of the children there prematurely at about 9:30 a.m.
"For hours they kept telling her to push thinking the baby left inside her was just one but nothing came out so they now referred her to Bwari General hospital," her cousin, Chinwendu Ekwunife, told Premium Times last Friday.
When she arrived the Bwari hospital, the health workers there further delayed the delivery process, thereby worsening her situation. She held on until 5 p.m.
"I don't know what happened but the doctors and nurses there still held on until about 5 p.m. before they wheeled her into the theatre. "She delivered the remaining two children but was now bleeding heavily. She took four pints of blood in less than 15 minutes.
"At a point they (doctors) said she was stable and after a while, she died. It was around 12 midnight," Mrs Ekwunife who was with her cousin at the moment of explained.
She said one of the triplets was placed on oxygen throughout the night because he was very weak.
She described the services rendered by the hospital as "careless and inhuman". "Why would a general hospital keep a woman who already delivered a baby elsewhere from 12pm to 5pm without conducting an operation?" she questioned.
The triplets were released from the hospital later, and Mrs Ekwunife, still mourning her cousin, has relied on help from her husband and friends as she juggles taking care of the kids and holding down her job as a lawyer.
Emeka Okonya, the father of the triplets is a graduate but unemployed.
Family and friends said he has since abandoned the family on the excuse he had no money and job.