Abuja News
RCCG Pastor Accused Of Raping Maid, House Girl In Abuja & Other Suspected Rapists Paraded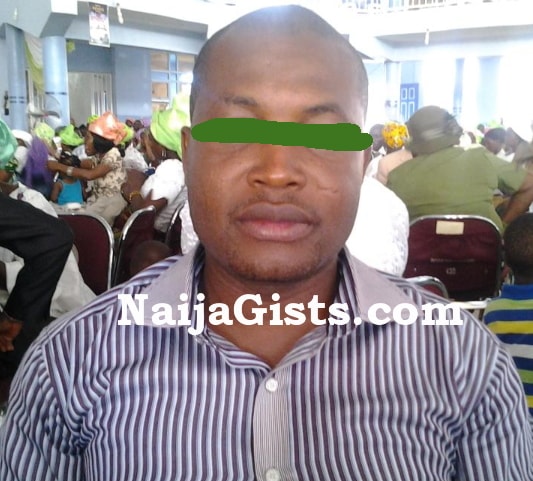 RCCG Pastor Accused Of Raping Maid, House Girl In Abuja Olatunbosun Prince Phili  & Other Suspected Rapists Paraded
NATIPP (The National Agency for the Prohibition of Trafficking in Persons) today paraded a 43- year –old Pastor, Philip 'Prince' Olatunbosun for sexually harassing his 17-year-old house help.

The suspect, who hails from Ondo State, was paraded along four other suspects for human trafficking and rape offences.

The pastor, according to the agency, would sneak into the victim's room and use his hands to fondle her breasts and other sexual genitals.

NAPTIP's Director-General, Julie Okah-Donli, who disclosed these at a briefing on Thursday in Abuja, said the move to parade the suspects, is in line with its 'name and shame' strategy of ending the twin problems.

Represented by the Director of Investigation and Monitoring at the agency, Mr Josiah Emerole, she said NAPTIP would continue to go after traffickers until it makes the "country a safe place for the people."
She said:
"Three of the cases have to do with rape and sexual violations against minors which are serious offences punishable under the Violence Against Persons (Prohibition) Act (VAPPA) 2015.
"The other two are attempts by two suspects to traffic or smuggle other Nigerians out of the country using fraudulent means contrary to the Trafficking in Persons (Prohibition) Enforcement and Administration Act, 2015."
The NAPTIP boss appealed to parents especially the mothers to pay closer attention to their daughters because of the increasingly cases and spate of rape in the country.
"To those out there who now take delight in destroying the lives of the girl child because of their uncontrollable sexual appetite, NAPTIP will no longer allow this to thrive.
"For the traffickers, NAPTIP will continue to go after them until we make the country a safe place for the people," she said.
A 27-year-old taxi driver, James Eberechukwu Osuji, who hails from Imo State and resides in Abuja, was paraded for luring a 17-year-old female to his house and camped her there from Thursday, August 2, till Saturday, August 4, 2018.
He was alleged to have drugged the victim and sexually violated her within those days.
Also paraded for rape and sexual offences was a 31-year-old Chef, Innocent Etim who hails from Akwa Ibom and resides in Abuja.
He was arrested for allegedly raping a 13-year-old girl whose mother provides cooking assistance whenever he has a catering contract.
Paraded for human trafficking offences was Mr Abiona David Oluwafemi Tobi, a man of various personalities.
Using letter heads of the Federal Ministry of Health (Office of the Senior Special Adviser to the President on Healthcare), he signed letters to someone in Finland as Director, Policy, Planning, Research and Strategy.
He tried to traffic 12 persons to Finland under the guise of embarking on Study Tour of Health facilities.
The suspect in other letters, claimed to be of the Hospitals Management Board of the Ogun State Government, Office of the Ogun State Governor and the Director, Finance and Accounts of the Hospitals Board.
Last to be arraigned was a 33-year-old mother of three, Asia Rita, who was alleged to be trafficking seven persons to Libya.
She and the alleged victims were intercepted by officers of the Nigeria Immigration Service (NIS) in Katsina and transferred to NAPTIP on Wednesday 29th August by the NIS Headquarters.
According to the Director-General of NAPTIP, "we are grateful to the NIS for this collaborative effort. Investigations are still ongoing on this case."