Crime News
Robbers Invited From Kaduna To Rob In Edo State Confess As Police Arrest Them In Hotel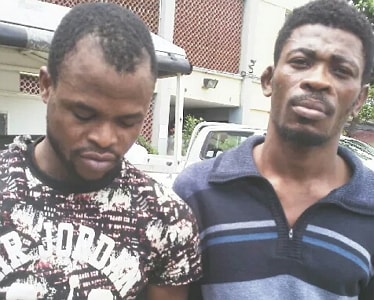 Edo state police command have nabbed 2 suspected robbers who were invited from Kaduna and Abuja to carry out special operations.
The two suspects identified as Dúnia Damboa and Sam Joshua were nabbed at a hotel in Uzebba, Owan West local government area.
They were preparing to go out for the operation when they were rounded up.
Dúnia who spoke to newsmen while being paraded at the police headquarters said they were invited to break into shops in the area.
He said the person that invited escaped before policemen swooped on them.
According to him,
"We came to one village at Uzebba from Abuja. The people lodged us in a hotel. Police raided the place and arrested us.

"We were invited to break some shops. We have not executed the job when we were arrested. The person that invited us was not around when we were arrested.
His accomplice, Joshua said,
"I was just invited from Kaduna to rob in Edo. We did not know what he called us for. We didn't want to do kidnapping but to do some stealing."