Breaking News
Safety Alert: Killer Salt In Circulation In Nigeria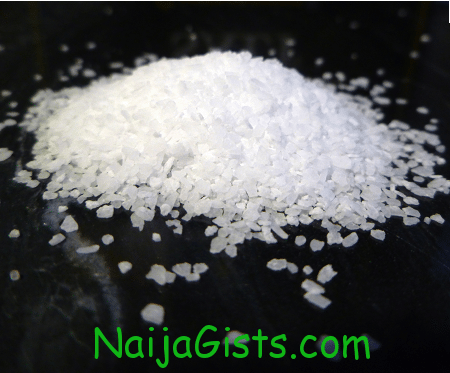 June 23, 2012 – Safety Alert: Killer Salt In Circulation In Nigeria
This safety alert is in no way meant to scare anyone rather it's meant to keep everyone on safety watch when shopping in Nigerian markets.
Killer salt is currently in circulation in Sapele Market, a Local govt area of Delta State, Nigeria.
Buyers and consumers must be aware of this in order to avoid jeopardy and loss of life.
The shocking discovery of this killer salt over the weekend in Sapele kept many wondering how it got there.
A woman named Mrs Patricia Kogoro brought some salt from the market and discovered that the salt she brought was bereft of the actual taste of original salt.
"I developed serious stomach ache after I tasted it," she said that in an attempt to confirm the originality of the salt, she emptied a full sachet of it in a bottle of plain water to examine whether the salt would dissolve.
Mrs Kogoro decided to carry out her own experiment by putting the salt in water and to her surprise, it didn't dissolve after 4 days in bottle water.
The Sapele popular vendor said on noticing that the substance was not salt, she alerted neigbours of her finding and some of them confirmed a similar experience.
When she paraded the bottle of water containing the killer salt to press men Friday, the substance, whitish, was seen to have carefully settle down at the bottom of the water bottle while the water floats on top of it.
Please pass this to your friends.
Who knows if this is Boko Haram inspired.
Let's be safety conscious and watch out for each other.