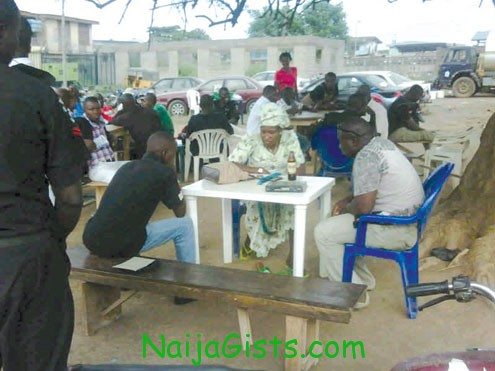 Policemen at Area 'M' Idimu, Lagos, performing their duties under the shade of a tree in the absence of an office.
March 1st, 2012 – Police Now Use Tree Shade As Area Office
According to pm news report, some officers resorted to using a Nim tree (Dogonyaro) in the command premises because there are no offices for them. naijagists.com
It was also gathered that the police authorities and members of the Police Community Relations Committee, PCRC, committee are yet to build offices for them as promised since the command was commissioned.
The police officers were also prevented from using the PCRC building located in the command premises, except on Wednesdays when the area commander gives them briefing.
Further investigation revealed that the command has about 19 departments, but many of the offices are located under the tree. And there is no cell to detain suspects.
They now detain suspects at Idimu Police Station before they are charged to court.
The anomaly at the command has made investigations difficult for the officers. Some of the departments located under the tree include Juvenile, Human Rights and Anti-robbery sections as well as other administrative desks.
Each department set its tables and chairs under the tree to obtain statements from both the complainants and suspects.
Efforts to speak with the area commander failed because our reporter was not allowed to see him.
Some residents who spoke with reporters expressed reservation about the state of the police command.
" If the authorities were not ready to make the place a command, why did they hasten to commission it?" one of them asked.
Contacted, the Lagos State Police Command Public Relations Officer, PPRO, Supol Joseph Jaiyeoba, said Area 'M' Police Command, Idimu, is new and as such the authorities expect the police officers in the command to be patient until offices are provided for them.
He said they cannot compare themselves with area commands that have been existing for many years.
When asked how soon the situation will be normalised, Jaiyeoba said: "The Lagos State government promised to build offices for all the five newly created police area commands including Area 'M' Police Command in Idimu. We hope this will be done very soon."
A big shame on these our government oooo. Useless leaders!