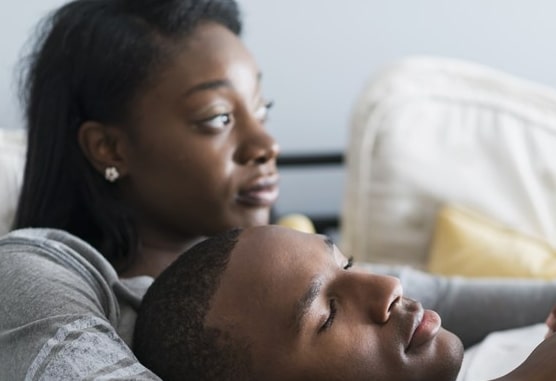 Dear Mummy Temilolu,
I've been dating my boyfriend for the past five years and he promised to marry me. I believe it can happen but people sometimes discourage me. However, I love him and he loves me too. His parents and sisters know me and they all love me too. But I'm scared ma; do you think he can marry me?
T.17
My darling, precious, glorious, dignified, world-famous and heavenly celebrated Nigerian sisters,
Hmm…girls…girls…girls, now I see why a lot of women are completely knocked down by life when they are visited with life's vicissitudes and can't brace up to face the battle and use it as a catapult to the top! A lot spend the time they should be expending on developing their life skills asides studying, wasting precious time with boys/romance in their teens.
My young lady is just 17 and she's bold enough to tell me she's been dating a guy since she was 12 and she states it as though it's normal and perfectly okay and already thinking about their future together! What does she know about life? What experience has she gathered that makes her think he should be part of her future? What does she have spiritually, materially, psychologically, emotionally etc. to coast through life? Sigh…Jesus is Lord! I bet 85% of her body, soul and spirit are invested in this guy! I bet she'd rather spend time with him than spend extra time on her studies.
How then can she acquire fantastic grades that would ensure she gets an admission to study a choice course? If she spends all her brain, energy and drive in a relationship, how can she develop necessary life skills such as decision-making and problem-solving, critical thinking, self-awareness, assertiveness (especially when a boy continuously messes around with her emotions), resilience, coping with emotions and coping with stress?
My darling T,
According to street parlance- why are you "doing" yourself, dancing to the drum beats of the devil and playing with fire? If you begin to think of marriage now when I doubt you've even gotten an admission into the university, how would you make anything solid out of your life? You're still a baby and unfortunately, you lack good guidance! Why are you so much in a hurry? There's so much in you to develop before you get yoked with anyone in marriage!.
Please forget this boy for now, concentrate on your studies, develop and discover yourself! May your emotions not become your greatest undoing in Jesus mighty name!.