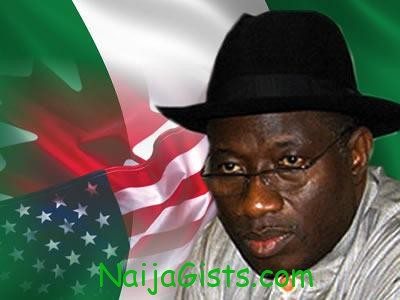 Jan 9, 2012 – Workers' Strike in Nigeria: U.S., UK issue alerts
The Foreign embassies are worried over likely security breaches today as Labour begins an all-workers strike. naijagists.com

The United States Embassy foresees a possible escalation of the peaceful action by workers into violence.
The British High Commission has asked its citizens to maintain a low profile.
It was learnt that the embassies have been concerned, following speculations that Boko Haram members might participate in the mass action.
It was gathered that the situation in the embassies became aggravated, following rumours that Boko Haram had imported three vehicles to be part of the strike.
A highly-placed source in government, who spoke in confidence, however said there is no cause for alarm.
He said: "There have been enquiries from some embassies but the government has been able to allay their fears that Nigeria is not on the edge.
"We have done our best to relate with the embassies and assured them of adequate security. In fact, security has been beefed up in all the embassies.
"The government will also not allow the situation to degenerate in all the 36 states and the FCT."
The Police Public Relations Officer of the FCT Police Command, SP Jimoh Moshood, said: "The matter of alleged importation of three vehicles by Boko Haram was raised on Saturday but there is nothing like that. We want the embassies and all Nigerians to disregard it.
"Already, about 15,000 policemen have been put on standby to protect lives and property during the strike."
Notwithstanding, the US Embassy said it is suspecting that the strike action may degenerate from a peaceful protest to a violent as the case was in 2003.
In an alert, it urged Americans to avoid areas of protests.
The alert reads: "The Nigeria Labour Congress (NLC) and the Trade Union Congress (TUC) have called for a nationwide strike beginning Monday, January 9, to protest the Nigerian Government's decision to end the subsidy on gasoline.  Other civil society groups may organise protests to coincide with the general strike.  Protests and demonstrations varying in size and disruption have already occurred in parts of the country as a result of the decision to end the subsidy.
"We remind U.S. citizens that, even though organisers state their intent to stage peaceful strikes and protests, there is the potential that some events may become confrontational and escalate suddenly into violence.  We therefore urge U.S. citizens to avoid areas of such protests and to maintain low profiles.  Citizens should monitor news reports regarding the location of demonstrations. 
"During the general strike, U.S. citizens should expect closure of many shops, gas stations and banks.  Such protests may also delay or halt delivery of gasoline.  Because of the potential for gasoline and food shortages, U.S. citizens should conserve fuel, avoid unnecessary travel, and ensure that they have sufficient food supplies.  
"U.S. citizens should ensure that they have sufficient food, water, and fuel to last at least three days in the event that protests cause the temporary closure of stores and suspension of other services.  Both domestic and international air travel may also experience disruptions, and we encourage air travellers to confirm their flights in advance.  Protests may also affect ground transportation, including on roads between international airports and major cities, and additional police checkpoints will likely appear on many roads.
"A similar general strike in July 2003 seriously disrupted public transportation and caused cancellation of some domestic airline flights.  Protestors also blocked roads in and around Abuja and in other areas.  Demonstrations occurred near government offices in Abuja.  Police responded by clearing the blocked roadways.  In some instances, police used tear gas to disperse demonstrators.
"Please review your personal security plans, remain aware of your surroundings, including local events, monitor local news stations for updates, and report specific incidents of targeted violence to the U.S. Embassy in Abuja or the U.S. Consulate General in Lagos."
The British High Commission asked its citizens to maintain a low profile attitude.
It said: "There have been demonstrations and rallies in most Nigerian towns and cities against the removal of the petrol price subsidy, which took effect on 1 January 2012. Some of these have resulted in clashes between the police and demonstrators. You are advised to avoid all such demonstrations.
"Nigeria's two main trade unions, the Trade Union Congress and the Nigeria Labour Congress, have called an indefinite general strike, starting from Monday 9 January 2012, to protest against the removal of the subsidy. The declared aim of the strike is to close all offices, airports and seaports, banks, markets and petrol stations.
"As part of their strike announcement, the trade unions have advised people to stock up on food and water, and also warned that banks and petrol stations will be closed. You may wish to consider stocking up on food, water, fuel and cash before Monday. Should political tensions mount, we advise you to keep a low profile, stay alert to local developments and stay away from areas of sensitivity, including large gatherings of people."