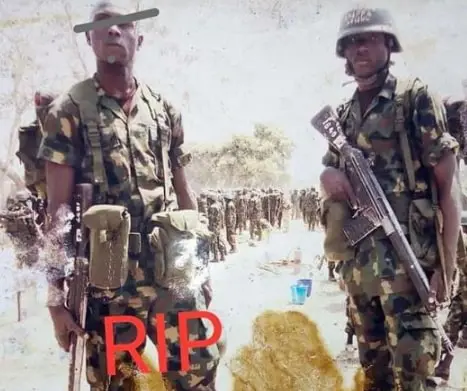 Wounded Nigerian Soldier Kills Himself On Battlefield To End His Pain
A Nigerian soldier who was shot by Boko Haram militant recently has reportedly took his own life.
The death of the unidentified soldier was made public by his colleague, a soldier identified as Emmy Benison who narrated how the widow of the deceased still blames him for his death.
Here is what he shared on Facebook.
"This is not just a story of what happened, i just wana clear the air, we have known each other since training days bt after 4yrs we met again at the frontline.

I always reserve one ammo for myself if incase things get out of hand, I will rather pull the trigger to my head than get caught alive by Boko Haram and I always tell him about it. On that day things went out of hand and my friend was shot twice but still breathing aad was eager to keep fighting but he was out of ammo and i had an extra magazine so i gave it to him but instead he shot himself and i swear to God almighty, I never saw that coming.

News got to his newly wedded wife and kid about his death and some agent of darkness said i told him to kill himself in order to end his pain. How can i be having such conversation while engaging? Till this very day, she blames me for his death, she blames for the pains and suffering her kid and her are going through.

I posted about her on my page hoping to raise money for her to start up something because deep down i feel guilty but i only got 34k. I don't know what to do, how can she ever forgive me? God almighty know what happened that very day, he was my buddy and i would have carried him and ran if that was an option then but we were under heavy fire. I did not meant for tinx to go dat way".